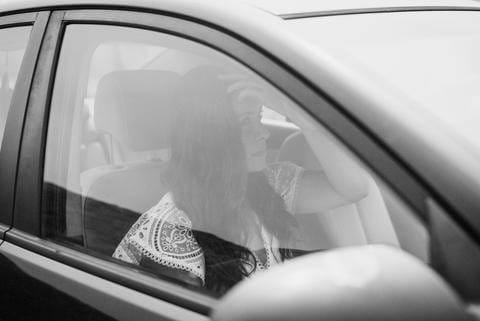 What makes Elsie Green special is our people. We've got a few former corporate executives, a floral designer, a former interior designer,  a teacher, a high school senior and a vintage collector.  But we're all shopkeepers at heart, manning the packing table, giving our signature brand of extraordinarily personal service in the shop, traveling the French countryside looking for pretty things, and playing with the merchandise all day.
Meet Anna, our Manager of Retail Operations and newest team member. She keeps the shops looking pretty, packs orders, and takes some of the pretty shop images you see on social media. She's a newlywed, food lover, traveler and new East Bay home owner. Read on to get to know her better and stop by the Concord shop to say hi. 
Favorite way to spend your free time?
Going on a day trip to Point Reyes and having oysters at Hog Island Oyster Co and then visiting the lighthouse. Additionally, camping in Big Sur, stopping by the Alameda flea market, always with my camera in hand. This year, I look forward to taking up gardening and tending to our fruit trees now that we have a backyard. 
What are you reading right now?
The Art of Gathering by Priya Parker
What is your all time favorite movie? 
 The Royal Tenenbaums or The Grand Budapest Hotel (truly any Wes Anderson film) I get blissfully lost in the prop styling, set design, wardrobe and use of color
Big Fish
Amélie - I remember seeing this for the first time when I was 15 and it still stands!
Favorite travel destination you've visited?
Rome and Paris. My now husband and I travelled here after only dating for six months. It was summertime and a heat wave. I feel like I have that warmth and all the wonderful smells and meals bottled up in my memory bank. It was a magical time.
A follow up question - What is a dream travel destination you would like to visit?
Any Scandinavian country. I love Scandinavian design, architecture and ways of living. I'm a firm believer in the concept of  "hygge" (the Danish concept for coziness and comfort) and I think I'd like to explore it firsthand with some scandinavian locals.   Also, the blue lagoon in Iceland is on my bucket list.
Daily uniform?
Denim - whether it be jeans or overalls - and a striped shirt. Clogs, boots or my favorite brown leather mules
What are your 2021 resolutions?
2020 has definitely been a more "back to basics" kind of year for me (and most of us).  I have felt so much gratitude for the things
I have, as well as my health - during such a challenging year.

For 2021, I'd like to continue this theme of getting back to basics
but take it further.
I have a dream of planting a vegetable garden
which I will be doing this year. I'd like to have my feet on the earth or in the sand more.
I'd like to pause and enjoy more small wonders in the moment and be present.
Additionally, I will try to cook more new recipes without being intimidated by them.
Top Ten Things I Can't Live Without:
| via |
3.
My houseplants - I currently have 15-20. My rubber tree and fiddle leaf are both over ten feet tall right now!
6. 
Demeyere tea kettle
- In the winter, I use it twice a day minimum. A classic staple in my kitchen and I love the ritual of using it.
7. 
Smeg citrus juicer
-  a new addition, but we have orange trees and this has been the perfect little companion for fresh orange juice.
10. Rose floral toner by Fresh - soft and refreshing. I use it daily, directly out of the shower. 
Anna's chosen non-profit is Donors Choose.     Read about our partnership with Pledge, an organization that allows us to donate a portion of each sale to ten causes, each one chosen by one of our team members. >
Meet the rest of the Elsie Green team