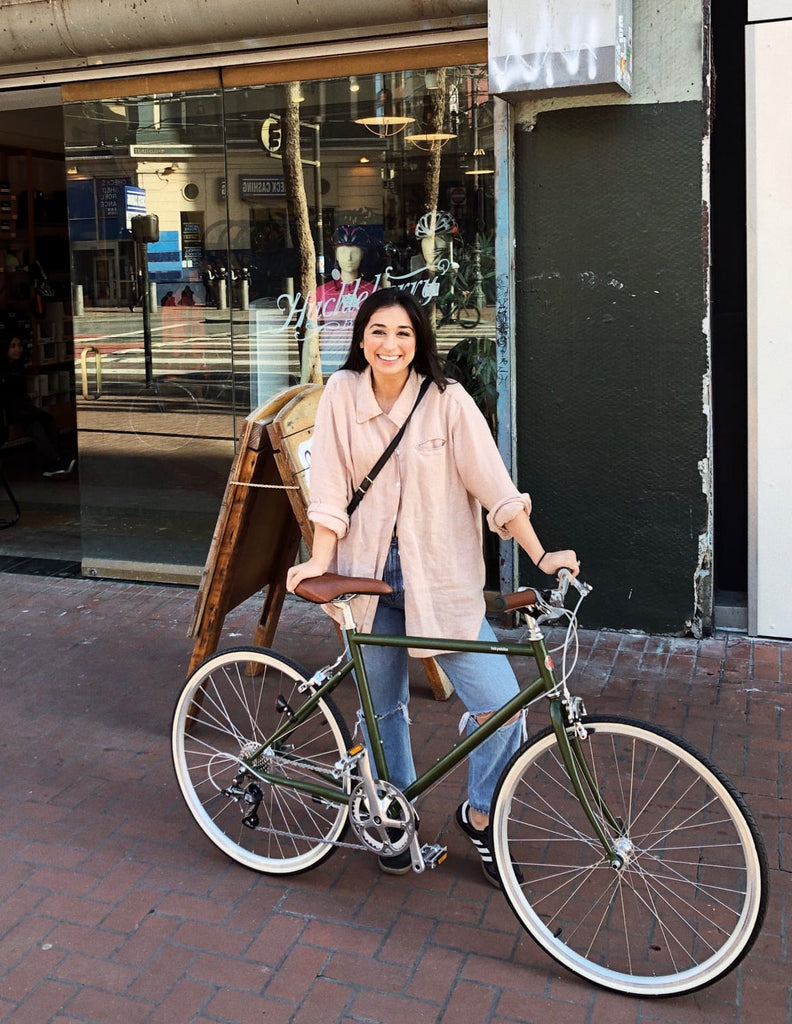 What makes Elsie Green special is our people. We've got a few former corporate executives, a floral designer, a former interior designer,  and a vintage collector.  But we're all shopkeepers at heart, manning the packing table, giving our signature brand of extraordinarily personal service in the shop, traveling the French countryside looking for pretty things, and playing with the merchandise all day.  
Meet Sepi, our Marketing Manager. She manages our editorial partnerships, our social media channels, the blog and will be working on a fun secret project with Laurie this year. She's an avid home cook, food lover, traveler and San Francisco explorer. Read on to get to know her better and stop by the Concord shop to say hi.  
Favorite way to spend your free time?
Definitely a day spent at the park or riding my bike around SF; It's such a fun way to see the city! We live near Golden Gate Park in San Francisco and feel really lucky to have this beautiful public space so close by. The park is filled with meadows perfect for throwing down a blanket for a picnic or reading. I also love going to the farmers market on the weekend. Our favorite bakery is right around the corner from the Clement Street Farmers Market and bribing my husband with a chocolate croissant is the only way I can get him to go!
What are you reading right now?
I am currently reading Uninhabitable Earth by David Wallace-Wells. I am having a bit of a love affair with reading at the moment and one of my resolutions for the year was to read more. I am hoping to read 15-20 books in 2020 - I'm currently on book number 13! Some of my favorites so far:
What is your all time favorite movie?
Please don't make me pick just one! Not possible. My favorite films make me laugh, cry, influence my fashion and styling choices, transport me to another time and place, inspire me to travel and I can watch them repeatedly without ever tiring of them. Here are a few that I absolutely love:
Call Me By Your Name
Pride & Prejudice
Vicky, Christina, Barcelona
Romeo & Juliet
Atonement
When Harry Met Sally
Anna Karenina
Grand Budapest Hotel
Amélie
Favorite travel destination you've visited?
My husband and I traveled to Italy for our honeymoon and while we were there we visited Rome, the Amalfi Coast and Puglia. We both fell in love with Italy but agreed that Puglia was extra special - it was raw, authentic and the energy in the warm summer air was electric. The food, architecture, people and the pace...everything about it was perfect.
via @sepijaan
A follow up question - What is a dream travel destination you would like to visit?
Sicily! Clearly Italy left a mark and I'd love nothing more than to get lost in other regions and cities of the country. I'd like to spend two weeks in Sicily during the summertime, exploring its beautiful baroque cities and swimming in the mediterranean!
Daily uniform?
More often than not I find myself reaching for my perfectly worn in denim, a white t-shirt or blouse and my converse. Layer on some delicate chains and charms around the neck and rings on the hands and this is my ideal look. In the summertime it's all about linen sets like this one from Deiji, slip dresses and espadrilles. I keep things pretty simple. I also try not to follow clothing trends too closely because I feel like timeless pieces are the best investments and have realized that my favorite items of clothing are items that I have owned for a few years which I continue to pull and feel most like myself in.
What are your 2020 resolutions?
Funnily enough it is because of one of my 2020 resolutions that I find myself here answering these questions and introducing myself to you all. At the start of the year my husband and I jotted down a list of things we'd hoped to accomplish individually (read 15-20 books) and as a team (purchase our first home). At the top of the list for me was the following: Make a career change. Full disclosure - this was also one of my 2019 resolutions. Career changes are scary, making life altering decisions can be scary, stepping away from your secure corporate position is SCARY. But sometimes an opportunity comes along that makes the decision to make a change and step away from that feeling of security a little bit easier. Then your loved ones make it even easier by encouraging you, supporting you and assuring you that this idea of "security" you've been clinging to doesn't have to be the only measure of success when it comes to your career. When the opportunity to join the Elsie Green team presented itself I truly believe it was some form of kismet. Now I spend my days at work surrounded by beautiful things and with the loveliest people.
My top 10 things I can't live without:
Find Sepi on Instagram at @sepijaan and stop by the shop to say hello!
Sepi's chosen non-profit is the Room to Read.   
Read about our partnership with Pledge, an organization that allows us to donate a portion of each sale to ten causes, each one chosen by one of our team members. >
Meet the rest of the team