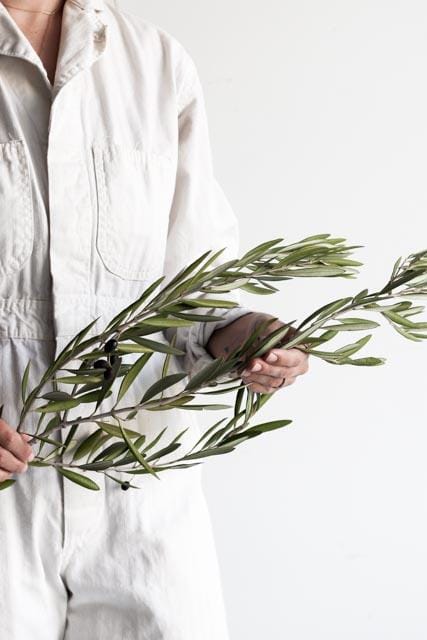 Terra is an expert at creating simple, beautiful arrangements from foraged flowers and branches.  She heads outside with her clippers, comes back with an armful of greens, and goes to work.  Within an hour, she's got a simply gorgeous piece for our wall, our console, or our front door.  
Terra's Fresh Olive Wreath
Buy a grapevine wreath in the size that will work for your space.
Cut fresh olive to desired length.  Terra likes to use fruiting olive, but branches without the fruit are fine.  
Make two bundles and attach to grapevine wreath with floral wire with the stems of the bundles together so the branches drape outward.  Don't worry too much about how the floral wire looks. The next step will cover it up.  
Add a raw muslin ribbon  to the point where the stems meet.  Terra likes to wrap the ribbon a few times, tie a knot at the front and let the ends fall down.  Or rip a length off a vintage linen sheet that's seen better days and use that as a big, dramatic ribbon. 
Terra's Dried Anise Wreath
Buy a grapevine wreath in the size that will work for your space.
Forage for dried anise.  Terra finds it by the side of the highway, and always has her shears handy.  
Tuck the dried anise into the grapevine fill in any holes.  
Take a photo of your wreath to see if there are any bare spots or holes.  Fill those in, and voila!  A pretty dried anise wreath.  No wire or ribbon required.  
Terra keeps a kit in the trunk of her car, ready to go whenever she sees something pretty to forage, or the inspiration strikes to create.  
For more flower arrangement inspiration, take a peek at these posts >
Design Trend We're Crushing On I Pressed Flowers
Foraged Flora I Kelsey's Botanical Guide