Small Spaces | Laurie's Petite Home Tour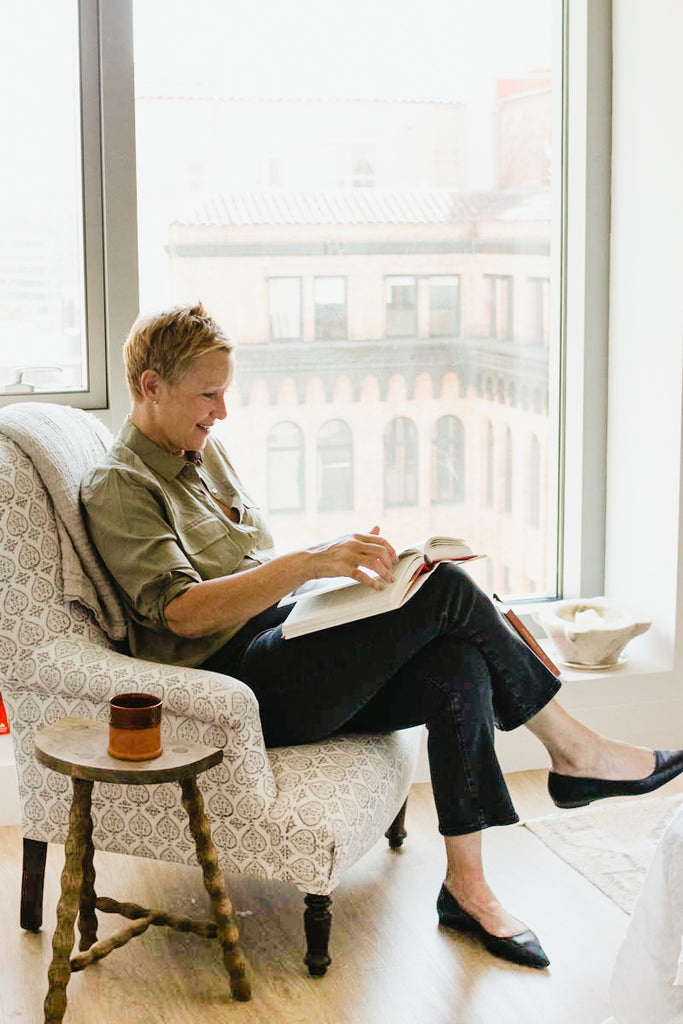 Recently, our Co-founder and Creative Director, Laurie, transitioned from a larger home in the Bay Area suburbs to smaller home in a bustling, hip neighborhood in Oakland.
We took some time to chat with her about any obstacles she may have faced during the downsizing process as well as her design process while furnishing and styling her new home.
You recently downsized to a sweet home in Oakland. How was the transition into a smaller space?
It's always fun to start fresh in a new place and I always felt like our old house had two extra rooms that we never used. The new place feels like exactly the right amount of space.
Did you face any design challenges while transitioning into your new home?
The main challenge was to make the rooms work for every day, but also for when the kids are visiting from their various homes. I feel like I still haven't nailed it with the third bedroom. 
Do you have a favorite space in your new home?
The main bedroom is a haven. It's got blackout shades and it's super quiet so it feels like a cave at night. But I really like all the rooms.
What has living in a smaller space taught you about consumption?
I don't need as much stuff as I thought I did. Although my son Jack would like to see  a few more pots in the kitchen, and my mom would like me to have some potholders, I generally feel like I have less and I buy less in this house.
What has living in a smaller space taught you about design?
The smaller space requires a much more disciplined color palette than I used in the larger house. Most of the rooms are visible from the main room, so as I was selecting items for the rooms, I was much more thoughtful about the color and pattern than I was in the old house.
Did you make any special purchases for your new space? Share your favorite design elements with us.
I invested in some art and I had a vintage chesterfield restored and re-covered for the living room.  One of my favorite new things in the new place is the lighting. The overhead lighting is very bright, so I invested in a combination of vintage and modern lamps and sconces to create a softer lighting scheme.
Share five recommendations (coffee shops, restaurants, bars, shops, museums, parks, etc) in your new neighborhood.
That's fun! 
If I were planning my perfect day alone, I would start at Tierra Mia for an iced cubano, then walk to Lake Merritt with my book and read for a bit, then make my way over to the Oakland Museum of California (one of my new favorites), then stop by either The Lake Chalet or Cafe Van Kleef for an aperitif, and then I'd walk down to Swan's Market for dinner.  
If one of the kids was in town, I would still start at Tierra Mia, but perhaps explore the Grand Lake Farmer's Market instead, and hit the Grand Lake Theatre for a movie or take the ferry from Jack London Square to the Ferry Building for a visit to the city.  For dinner, we'd go to Lovely's.