Setting the Table | 6 Place Settings with our Classic Dinnerware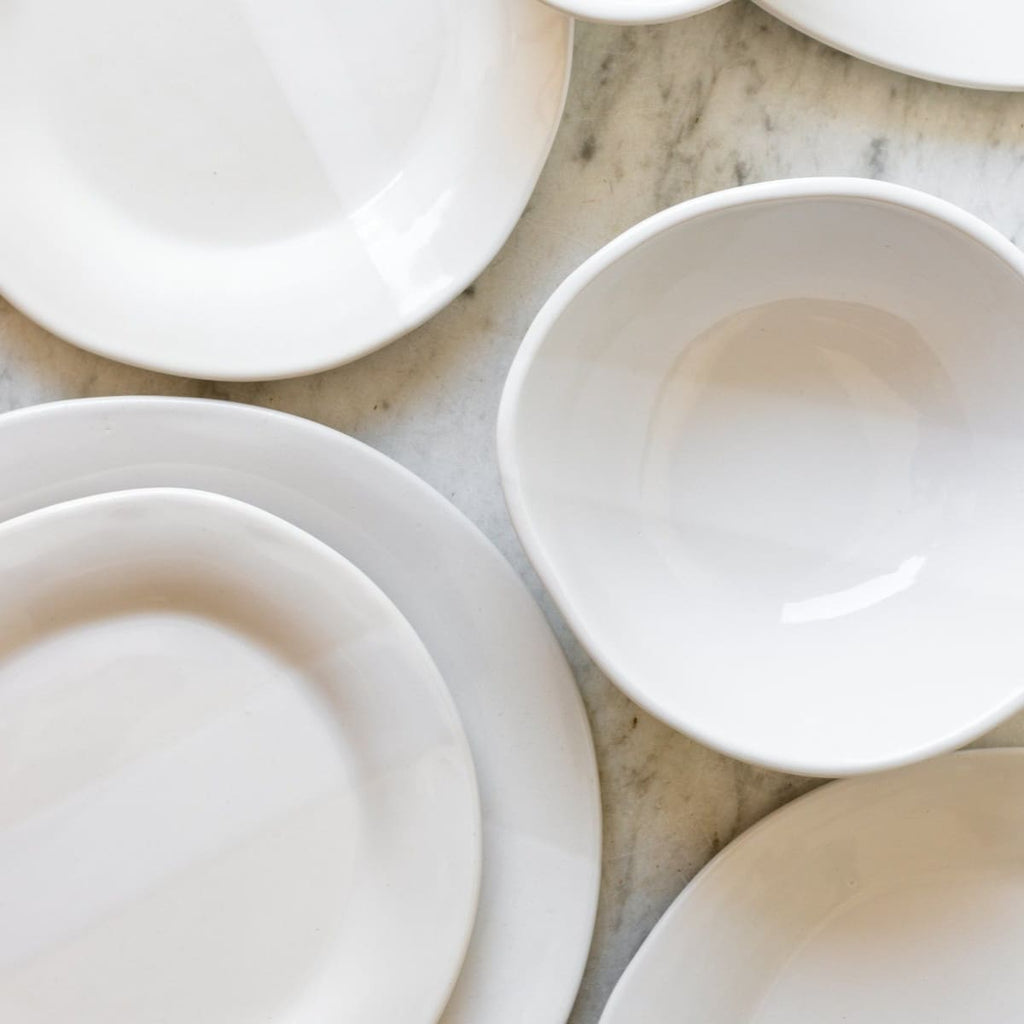 I recently moved to New York, and had to furnish my new apartment from scratch. This included kitchen supplies, and the first thing on my list was white dinnerware.
The white plate is the crisp white shirt of the entertaining arsenal. It's versatile, goes with everything, and never goes out of style. Because it's so classic, I knew that they were pieces worth investing in. I plan to have my Elsie Green classic white dinnerware for years to come, and they've already gotten a lot of mileage at my spring dinner parties.
We put together six place settings featuring our star player, the white plate, so take a scroll and take this as your sign to add these plates to your summer tables.
Place Setting 1: The Stoneware Table
1. Pair of Twist Beeswax Candles in Terracotta 2. Vintage Brass Candlestick 3. Classic White Dinner Plate 4. Vintage Stoneware Bowl Set of 2 5. Cedar Stripe Washed Linen Napkins 6. Set of 4 Stoneware Tumblers
Place Setting 2: Not Your Grandma's Garden Party
1. Large Stoneware Pitcher 2. Glamorous Vintage Wine Glasses  3. Classic White Dinner Plate 4. Vintage Brass Chamber Candlestick 5. Pair of Beeswax Column Tapers in Antique 6. Washed Linen Napkins in Bluestone 7. Vintage Transferware Salad Plates 8. Vintage French Garden Pots
 Place Setting 3: The Moroccan Feast
 1. Classic White Dinner Plate 2. Moroccan Cocktail Glass 3. Round Grass Placement Set of 4 4. Mini Moroccan Tea Glass Votives 5. Beeswax Tea Lights 6. Moroccan Bowl Set of 5
Place Setting 4: Le Bistro Français
1. Vintage French Champagne Bucket 2. Vintage Souffle Mold 3. Glamorous Vintage Flutes 4. Classic White Dinner Plate 5. Stonewashed Linen Napkin in Black 6. Vintage Lion Bowls 7. Petite French Bread Board
Place Setting 5: La Vie en Rose
1. Blown Glass Pickling Jar 2. Classic White Dinner Plate 3. Washed Linen Napkin in Pale Pink 4. Fluted Tart Mold 5. Vintage Bistro Glass Set of 2 6. Beeswax Fluted Pillar in Ivory
 Place Setting 6: Le Fête en Blanc
1. Pair of Twist Beeswax Tapers in Ivory 2. Classic White Dinner Plate 3. Vintage Dessert Coupe Set of 4 4. Washed Linen Napkin Set of 4 in White 5. Stoneware Berry Bowl in White