Atelier Rae | A Conversation with Rae Dunn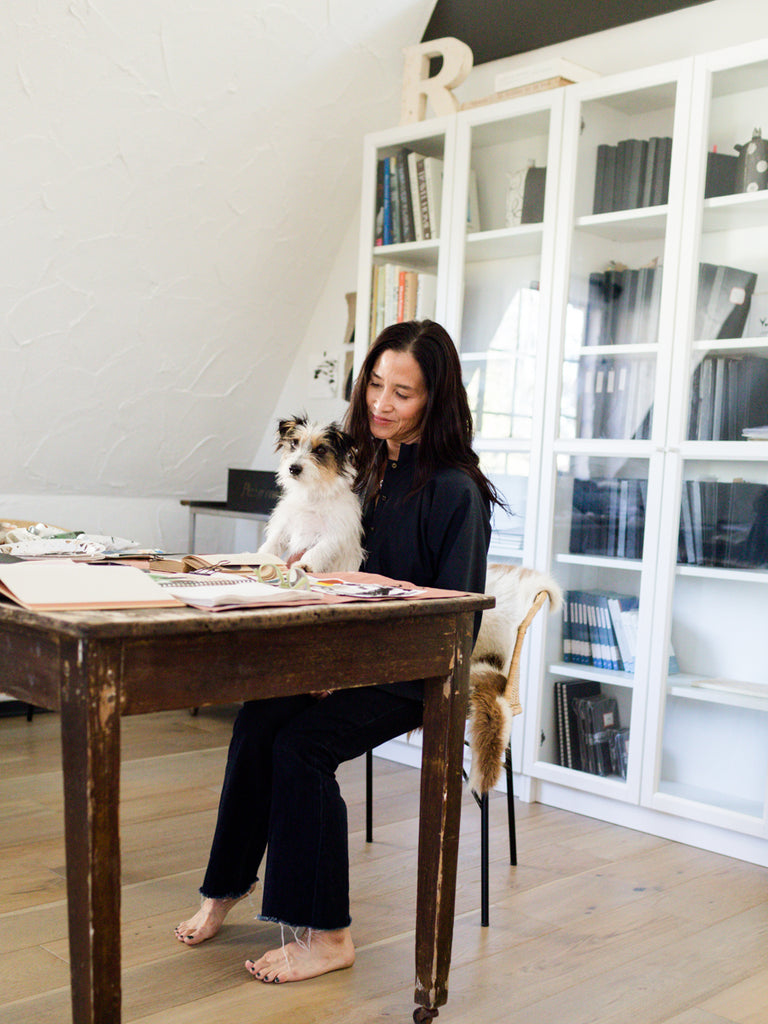 Every day is different at Elsie Green.   And some of our favorite days are when we are invited into a beautiful home to scout for a photo shoot or to consult on a design project.  That happened earlier in the year when we were meeting with artist Rae Dunn in her home and she invited us next door to take a peek at her atelier.  
The space is a storybook cottage in the Berkeley Hills and is perfectly populated with beautiful things to fuel her creative process.  Rae's collection of vintage pieces complements the soulfulness and history of the cottage itself. 
 We sat down with Rae to talk about the atelier and her approach to creating an inspiring space for her work.  (Can you spot the Elsie Green pieces in the atelier?)
Tell us a bit about yourself and what makes your atelier special to you.
I am an artist and designer. I have a ceramics studio in a separate location, but this house is my atelier devoted to all of my other creative pursuits. I fell in love with the bones of this house. It has a very old world feel to it with lots of iron pane windows and oddly shaped rooms. There is a room for all of my creative needs: a painting room where I paint and experiment for my own joy. Next to that is a drawing room where I illustrate, watercolor, and do design work.
Midway down the stairs is a meeting room where I conduct business meetings and do shipping. And off the main floor is my music room where I play my piano and cello. This house is very special to me and I always feel so happy and nourished when I'm there. It is truly my creative playhouse.
How does your lifestyle, job, or your upbringing influence your décor ?
I have always been a minimalist; I've never liked a lot of extra stuff around me. I am very susceptible to sensory overload and feel as though the world outside can be quite chaotic, loud, and overwhelming. When I walk into my own space I want it to be calm, peaceful, and pleasant. I like to escape into my own little world, something I've done since I was a small child.
How would you describe your style?
I would describe my style as "french flea curated minimalism." I have always been drawn to old worn things. Things with a history. Things that tell a story. There is a beautiful softness and soul to old items that I connect with and appreciate. I much prefer this over shiny new things. I also really like negative space.
How do you select the furniture for the atelier?
I only buy things that I truly love. If I see something out there that I fall madly in love with, I buy it and figure out where it will go later !
What is your favorite room ?
I love every single room in this house for different reasons. But if I was forced to pick a favorite, it might be my painting room. In this room, the possibilities feel endless. This is where I paint larger scale canvases and experiment with different mediums for my own personal enjoyment and creativity. There are windows on three of the walls with views of lovely wild nature, deer, AND french doors with a view of the golden gate bridge. The bonus is a balcony where I often sit to write, read, and enjoy a cup of coffee, tea, or glass of wine.
What is your favorite thing in the house ?
Again, it's so hard to pick just one thing ! I guess at the moment, I have two favorite items: my cello, and a piece of artwork by Emily Payne. I'm just learning how to play the cello. I love its sound and I love the way my cello looks just perched on its stand like a beautiful sculpture. My wall piece by Emily Payne is made out of cloth from vintage book covers. I love the subtle colors and the history each square holds. When Emily installed it, we were amazed how perfectly it suited the room, as if it were made for this space. Emily says "the name of the piece, CIRCA, refers to the use of materials that are aged and mysterious in the stories they contain." Perfect for my little word.