Love Stories | Emma Loughridge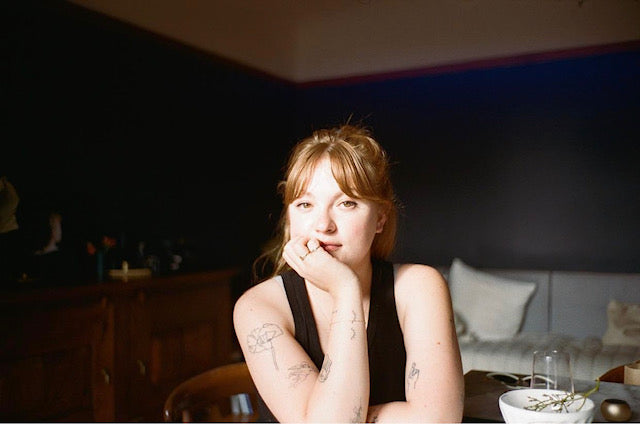 We're self-proclaimed romantics at heart and embrace love in all of its forms. Whether it be romantic love between partners, a love nurtured between friends old and new, love solidified by familial ties, or love of self, we often find ourselves in awe of the ways that love can present itself. 
For our Love Stories segment, we chatted with our dearest friends about love felt, shared, and expressed in their lives.
Read more on love from our dear friend, Emma Loughridge.
First, we'd like to congratulate you on your engagement - this is such a special and exciting time in your life. What are you looking forward to most about your wedding day?
Thank you so much! I'm very much looking forward to celebrating with all of our loved ones - it's so rare (obviously especially these days) that we are all together. I'm also excited to drink lots of fun wine and eat tacos and party with my favorite humans.
What makes you feel loved?
My fiance brings me a cappuccino in bed every morning and that feels pretty dang special.
What is your favorite way to show or express love?
I'm a Cancer, so if I love you I will tell you my feelings about you all of the time - most definitely a "words of affirmation" gal. 
What is your favorite form of self care and self love?
Reading is my other great love in life, so I make sure to carve out time everyday to wind down with a book.
What is something that has surprised you about love?
As someone who loves spending quality time with those I care about, I especially know someone loves me and knows me well if they give me time to myself. I've learned that letting someone have their own space in life to do what they need to do is the one of the most loving things you can do.
Emma's Gift Edit
An Elsie Green gift you'd love to give for Valentine's Day?
Many people in my life love to cook (I do too!) and this vintage copper pot is something special you can keep in your family forever. 
A gift you'd love to receive for Valentine's Day?
One of the first gifts my fiancé gave me when we started dating was a beautiful vintage Cesca chair by Marcel Breuer. Chairs became something we've collected together, so these Salt Chairs would be a lovely addition. 
Folllow Emma on Instagram @emmatheyellow