New Modern Farmhouse | Living Room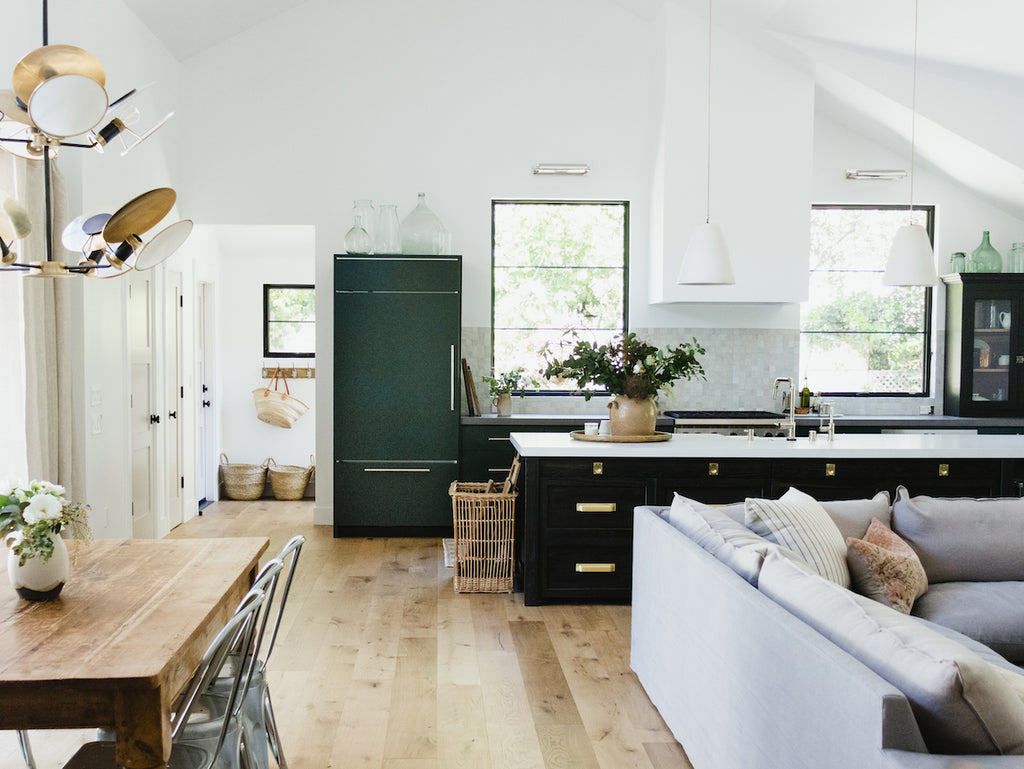 Living Room
The main room of the new house was a unique challenge.  It was large, but the client wanted it to feel intimate.  The client wanted it to be bright, but not sterile.   And like most open plans it contained three zones:  living, kitchen and dining, but in this house they are all visible from the front door.  
Rather than divide the  large living space into zones, we decided to work with the scale and place a 10' L shaped sectional in the room, a large vintage rug, and we cut down a vintage dining table to coffee table height.  The large scale of each piece creates a balance in the room that makes it feel cozy rather than overwhelming. 
For the room's longest interior wall, we designed a custom 12' media console to anchor the Frame TV and collection of art.   
We painted the room a bright white, then added a counterpoint of a deep grey for the fireplace wall and the fireplace. The sharp contrast of the dark wall against the white, light-filled room adds a moodiness that anchors and defines the living space.   We chose a medium grey Belgian linen for the sofa to echo the grey of the wall and further define the living space.  
Paint Colors
Walls | Benjamin Moore Chantilly Lace
Accent Wall & Fireplace | Benjamin Moore Cheating Heart
Contents
Custom Sectional Clad Home Sherwood
Coffee Table, Rug, Mirror, Accessories Elsie Green