New Modern Farmhouse | Kitchen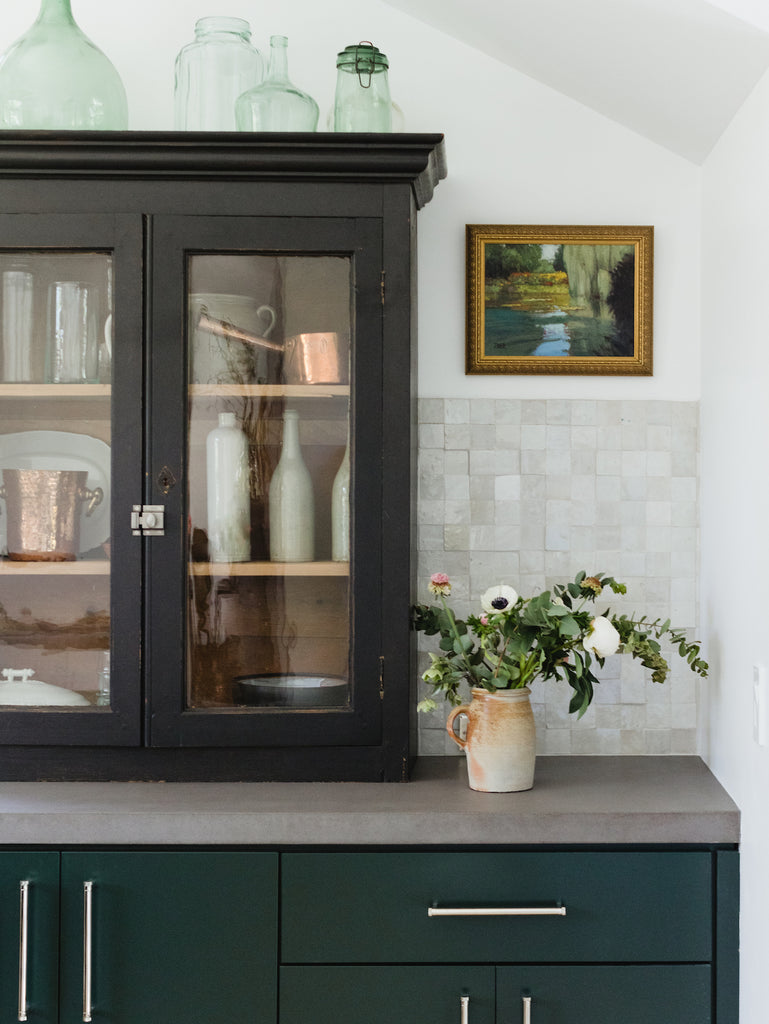 Kitchen
The kitchen was an exercise in flexibility.  We all wanted the kitchen to be defined by its own color palette, and to have some soul but the details changed as the room developed.   
The island was massive:  12' long by 4' wide.  We originally designed it with a cabinet maker, but were all underwhelmed by the result.   The piece was a defining element to the kitchen and needed to have more va va voom. 
So we decided to treat it as a piece of furniture rather than as a cabinet.  We wanted all the beauty of a vintage piece with all the function of cabinetry.  Using vintage pieces as inspiration, we designed a beautiful big piece to accommodate storage needs, a trash drawer and plumbing and built it with a furniture craftsman in LA. 
It was a delicate balancing act of part art, part science. But it worked. 
We originally chose a pair of enamel pendants to light the island.  But the choice didn't quite sit with Brian.  He was enamored with the Adam Silverman ceramic pendants at Scribe Winery, and felt there was a more organic and unique solution.  Inspired by the challenge, we worked with Notary Ceramics to develop a pair of custom 15" diameter pendants that are big and beautiful works of art.  
We originally chose a deep blue for the cabinets.  But after a trip to Lyon where I saw the most beautiful velvety green on the walls of a lingerie shop, we changed to a deep, rich green.  
The Coates did not want the heaviness of upper cabinets in the kitchen, but they did want as much storage as possible in the room.  So rather than resort to open shelving, we sourced a vintage vitrine from one of our favorite French flea markets and fitted it with new hardware.  
To add a little personality to the design without adding cost, we decided to tint all the interior doors a few shades darker than the walls.  
Paint Colors
Walls | Benjamin Moore Chantilly Lace
Kitchen Cabinets | Farrow & Ball Studio Green
Interior Doors | Farrow & Ball Cornforth White
Island | Espresso Reactive Stain
Contents
Custom Island, Custom Pendants, Vintage Vitrine, Runner, Accessories Elsie Green
Art Coates own
Cabinet Hardware Rejuvenation
Island Hardware House of Antique Hardware
Picture Lights Visual Comfort
Backsplash Tile Cle Tile