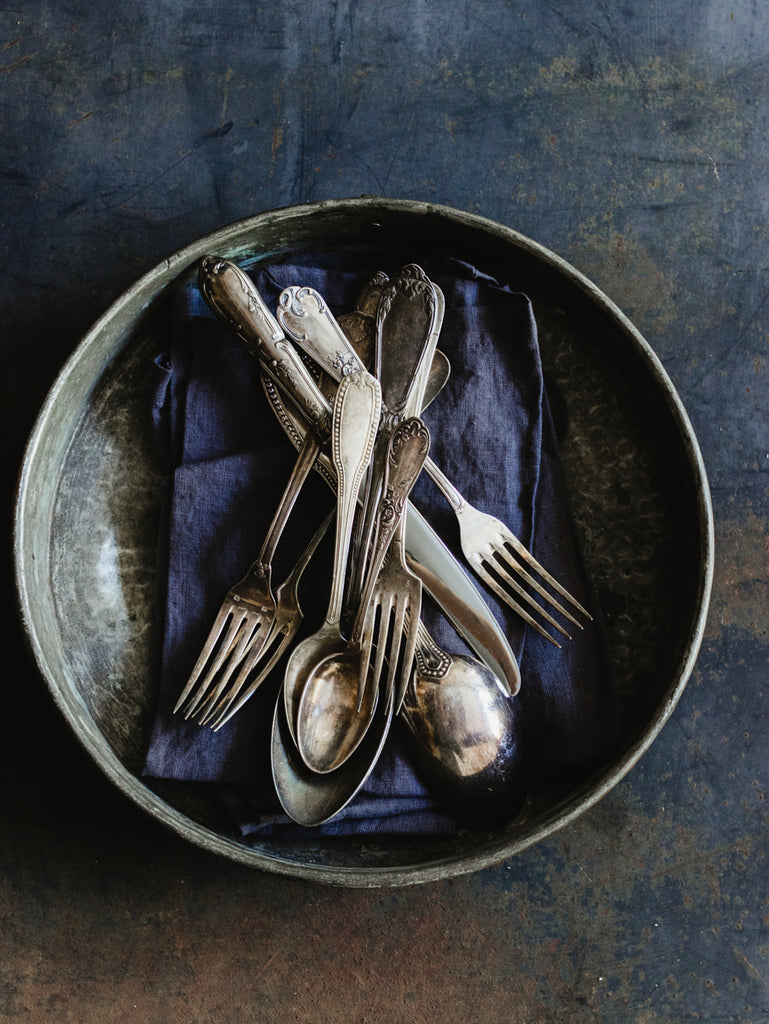 Each member of the Elsie Green team has beautiful taste, and each is an avid Elsie Green shopper.  Read on for Michele's 2022 gift edit of her favorites past and present.  
Your favorite Elsie Green gift to give
Our vintage flatware is one of my favorite things. I can think of several people on my list who would love a set of vintage spoons or a silver pie server.  
Through December 25th, 10% of all sales of our vintage flatware will be donated to Michele's chosen non-profit Every Mother Counts.

A nice gift for yourself
Honestly it was hard to choose just one.  But if I have to choose: vintage stoneware.  Before working at Elsie Green I had more time to devote to my practice of learning the ceramic arts. When I see the rustic, sometimes primitive, pieces come in I have to restrain myself from buying it all. Vintage wood knives and vintage art are also high on my list.
| image courtesy of elsie green |
The best Elsie Green gift you've ever received
I received a Frankie Linen Bag from Laurie for my birthday when we were traveling in Europe together.  I use it all the time. It's my go to for picnics at the beach with my friends and family.
| image courtesy of master class |
The gift you can't wait to give because you know it's absolutely perfect
There's so much I love about this book! Annie Leibovitz is one of my favorite photographers. I remember seeing her work on exhibit in Albuquerque, New Mexico back when i was studying design in college. I couldn't get over the richness of her photos! So much depth and texture. I love her use of color and props…how she doesn't just capture the essence of a person through their expression, but tells a story in her settings.  
I also love the size and design of the book itself. The natural linen cover with red embossed type and red edged pages really speaks to the days when i was working as a graphic designer.
Beautifully executed on every level.
| image courtesy of tom lane |
Sometimes one has a favorite gift that's not from Elsie Green.  What's yours? 
Easy.  Jenni Kayne Cashmere Socks.