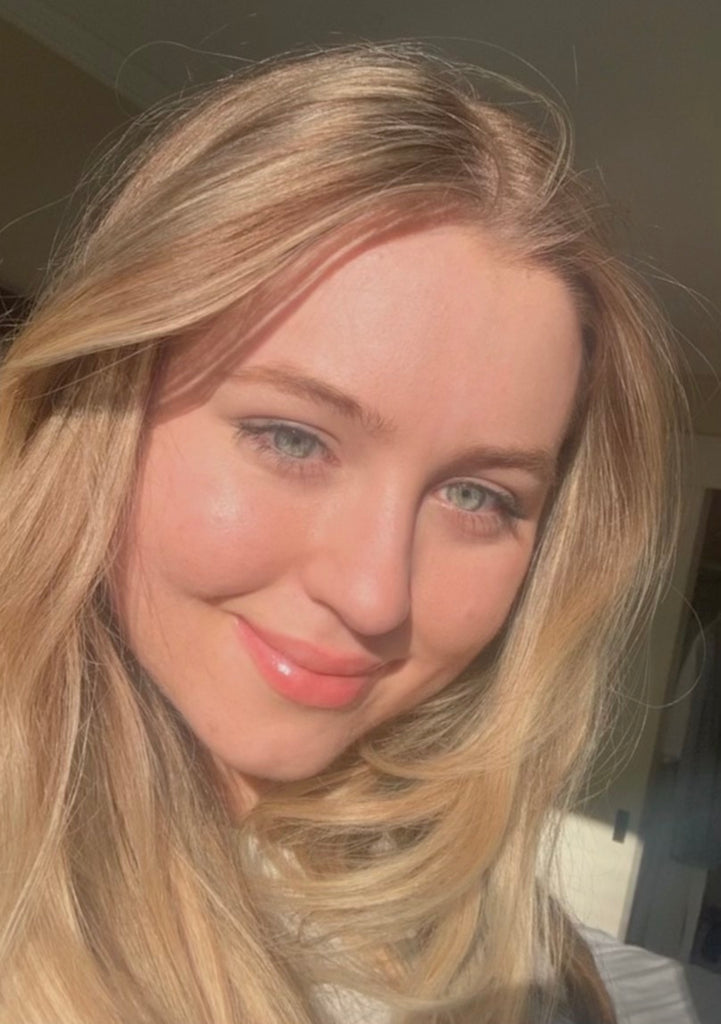 What makes Elsie Green special is our people. We've got a few former corporate executives, a floral designer, a former interior designer,  a vintage collector, a teacher and a high school senior. But we're all shopkeepers at heart, manning the packing table, giving our signature brand of extraordinarily personal service in the shop, traveling the French countryside looking for pretty things, and playing with the merchandise all day.
Meet Paulina, our operations assistant and the newest member of our team. She is a tried and true California gal, dog lover and trail explorer. When she isn't in the shop, she loves to spend most of her free time outdoor adventuring with her pups and traveling with friends and family. 
Read along to get to know why we love Paulina and find out the top 10 items she simply cannot live without. 
What is your favorite way to spend your free time?
I love spending time outside with my dogs. I have two golden retrievers and I enjoy taking them on walks along the trails and hikes on Mount Diablo. I also love to explore new restaurants with my friends. We go on bi-weekly dinners. Our latest discovery is Range Life in Livermore and it was an amazing meal.
What are you currently reading?
I recently finished The Seven Husbands of Evelyn Hugo and love Taylor Jenkins Reed. I'm currently reading Daisy Jones and the Six. I won't let myself start the Hulu series until I finish the book!
What is your favorite series?
I love comedies. New Girl and Veep are my two favorites. Right now I'm in the middle of binging The Sopranos, which is a big deviation from comedies. Some of my other favorites include White Lotus, Normal People, Euphoria, and The Good Place.
What is your favorite travel destination?
I loved visiting Salzburg in Austria. It is where the Sound of Music was filmed. It was special visiting the different filming locations after growing up watching the movie. It is such a beautiful city and feels like something out of a fairytale. I also enjoyed Italy, especially Cortona which is outside of Florence. The Tuscan countryside is stunning and you really can't beat fresh pasta for every meal.

What is your dream travel destination?
I have never been to Paris so that would have to be at the top of my list right now. I would also love to explore Asia, starting with a visit to Japan.
Favorite Recipe?
I love Ina Garten's Winter Minestrone. It's my go to comfort meal in the winter. I always add a little bit of olive oil and parmesan on top. You'll love this recipe, I promise!
What is your daily uniform?
Most days I wear relaxed fit jeans with an oversized sweater in the winter or a cropped t-shirt in the warmer months. I also love wearing sundresses in the summer. My mom is my biggest fashion inspiration and my love of bohemian style sundresses comes from her. I typically pair my outfits with my platform white Adidas sneakers. They are the most comfortable shoes I own.
Top 10 Things Paulina Can't Live Without:
2. Chloe Sevigny Little Flower Perfume 
5. La Roche Posay Mineral Tinted Sunscreen
6. Pilcro Boyfriend Denim Jacket 
7. Charlotte Tilbury Pillow Talk Lip Liner
8. Hydroflask
9. Original Makeup Eraser Cloth