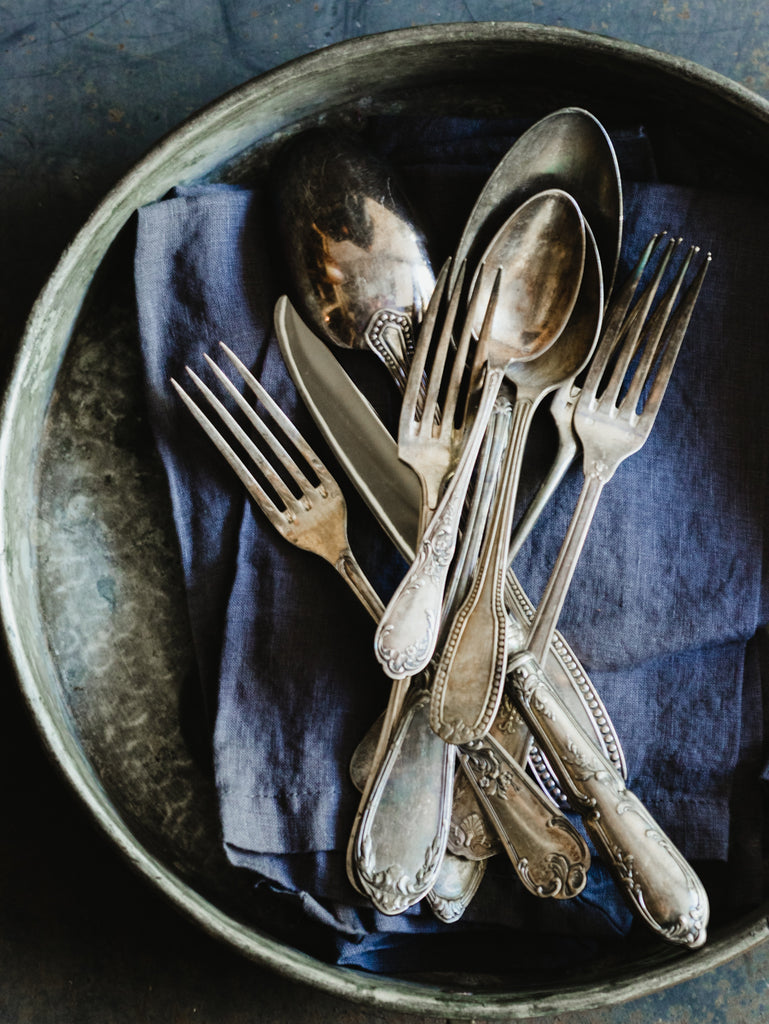 Our Entertaining Top Ten
What are the things you reach for over and over again when you're entertaining?  We'll go first.  
We have many platters in our pantry, but the three we reach for first are all white:  a round, an oval and a rectangle.  The variation in size and shape makes for a pretty table, and all food looks good on white.  
As with platters, we have many bowls in our pantry, but our favorite is a 14" white bowl hand made by an artist here in California.  It's great for a salad, or it can really bring the drama filled with whipped cream for a dessert.  
Big French silver spoons, big French silver ladles, a big French carving knife & fork and big French silver tart servers are extremely versatile.   They bring the function and the beauty to your table.  
A few good bread boards are great for carving meat or serving cheese.  But try serving your salad on a big bread board.  That's a showstopper.  
We like to use kitchen towels on our table for wrapping the baguette, lining the bread basket, or covering the pies.  And they're extra pretty used as napkins.  
Glass or foil tart molds are very functional. But using a porcelain mold for your pie adds that extra bit of va va voom to the presentation.  
Never underestimate the power of candlelight to set the mood.  We gravitate toward vintage brass candlesticks for our tapers, and vintage wine coasters for our pillars.  Our favorite candles are unscented beeswax, as they burn slowly and give off an ever so faint fragrance of honey.  
We prefer glasses on the smaller side when we entertain.  Because they're chic, but also because you don't go around dumping out half empty glasses of wine at the end of the night.  Our favorites are the Gigogne Glass for a modern twist, and our Vintage French Wine Glass for a more traditional table.  
It seems like a luxury, but a champagne bucket can be useful for ice on the bar, chilling your wine, holding your flatware and napkins on a buffet, or for a dramatic statement at the entry, filled with sand and tall, thin event tapers.   Often, I'll fill one with flowers and place it on the kitchen island for a bit of softness.  
Small bowls are great for salt, herbs, condiments, limes on the bar, olives.  Anything really.  We all have collections of small bowls that we use faithfully when we're entertaining.  The vintage cafe bowl is a favorite.