Inside Scoop | EG Custom Furniture Collection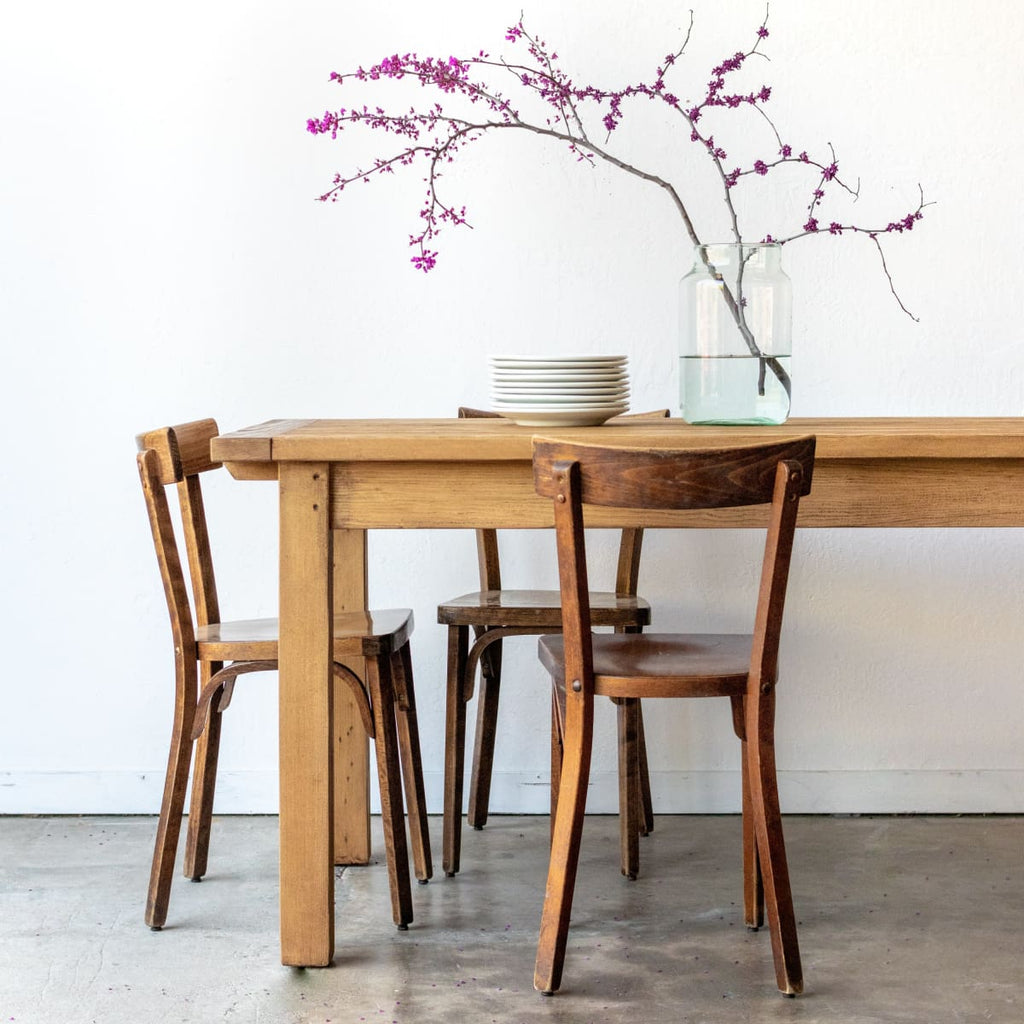 It's September, and you know what that means...the annual Elsie Green custom furniture sale has begun! Our entire custom furniture collection is 20% off, so if you've been eyeing that must-have piece, now is the time.
These pieces are the passed-down-through-the-family type that you keep forever. My family has had a waxed pine dining table since I was five years old, and so many of our greatest memories have taken place gathered around it. As they age, they grow more sentimental and more beautiful.
Each custom piece is hand crafted from reclaimed wood sourced in California, and can be tailored to your space and specifications. Take a scroll through our guide below to see each of our vintage-inspired custom pieces, and see which one speaks to you. 
This table is our most simple and classic piece in our collection. We've had a version of it in our kitchen forever. We love it so much that we can't imagine our house without it. The extending table extends to 108" -- allowing enough room for a big, happy family to gather every night for dinner.
Forager Reclaimed Wood Farm Table
Meet the Forager: it evokes all the warmth of a cozy French farmhouse. This table is very similar to our classic Reclaimed Wood Farm Table and can be considered a classic piece for any household. The extending table extends to 114" in length, so offers a bit more room than our classic table.
This coffee table is so chic and simple.  Imagine sitting on your sofa, curled up with a book and an espresso next to this table. Perfect, oui?
Reclaimed Wood Round Coffee Table
This reclaimed wood table was inspired by vintage elm stools found in chic homes all over the world.  We've simplified the design and refined the execution to make this lovely minimalist piece perfect for a sectional or a big comfy sofa.  
Reclaimed Wood Oval Farm Table
This piece was inspired by a vintage farm table we found in Ile-Sur-Sorgue in the south of France. We love the beautiful, elegant turned legs with stretchers, and the graceful oval top.  The table can be made with four legs rather than six if you'd like to use benches for seating. 
French Inspired Reclaimed Wood Farm Table
This piece was inspired by a vintage farm table we found in Lyon. We love its simple classic lines and perfect proportions. It is a lovely marriage of form and function.
Reclaimed Wood Sliding Door Wardrobe
This piece was inspired by a vintage piece we found on one of our shopping trips on the French countryside.  We think it's also quite perfect for china in the dining room or linens in the bedroom.   
 Reclaimed Wood Round Dining Table
This simple round silhouette is as at home as a desk in a home office as it is in a kitchen or dining room.  We love the softly eased edges of the top and the simple, elegant base. 
This piece was inspired by a vintage buffet we found in the dining room of one of our most favorite collectors in Lyon. It gives your space that little something something. And to add storage, we've designed an open hutch that pairs with it perfectly.
Oval Reclaimed Wood Trestle Table

This table is the newest addition to our custom furniture family. It's the perfect table to pair with a built-in banquette to give you maximum flexibility for seating.
We've had a version of this cabinet in our shops for many years, and we think it's a classic. We're suckers for the perfect blend of style and function.
Reclaimed Wood Bread Board Coffee Table
This new piece inspired by the coffee table that Laurie has in her living room, which was a vintage work table cut down to coffee table size.
Tudor Reclaimed Wood Library Console
Our favorite thing about this console is the unique configuration of the hutch, and the tall, stately proportions. It's begging to be loaded with books and other pretty things.
Melrose Reclaimed Wood Bookcase
This piece is a more modern version of a vintage etagere we found in a workshop in Lyon.  We love the structural reference to barn ladders.
-
If you don't see the perfect thing here, check out our full custom furniture collection on our site. Bon shopping and Happy September, friends!
 Want some more information on our custom furniture? Take a peek at these posts.
Caring for Your Reclaimed Wood Furniture >
Gather {Around the Dining Table} >
Photo Essay | Reclaimed Wood Furniture