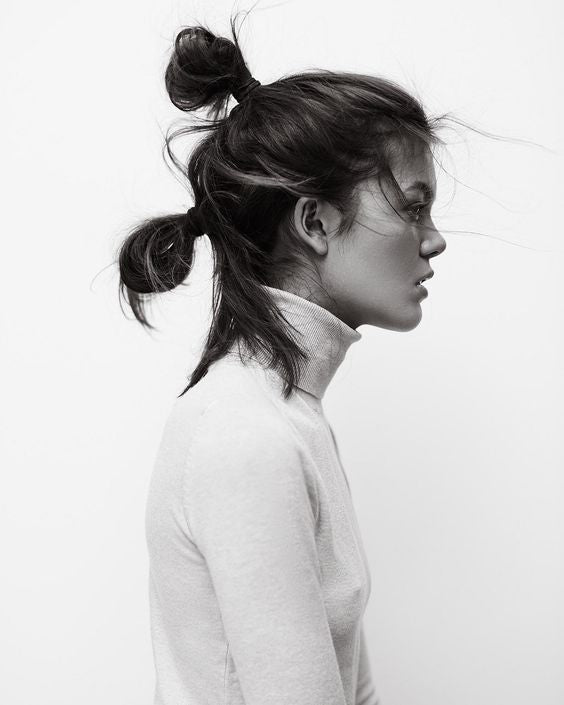 Throughout the year there are seasonal changes that occur naturally, like switching out your summer linens for cozy sweaters as the temperature begins to drop. What might not be at the top of your mind is re-evaluating your beauty routine to make sure it still serves you from season to season. 
Each season brings its own stressors. We are no longer spending all day in the hot, humid sun and can begin to transition away from those lighter, summer-friendly formulas to find more hydrating products. Our cold-weather foes have returned, like clockwork, bringing us a more dehydrated scalp, split ends, and dullness. 
Good hair is important for a lot of us and self-care is an act of self-love. To combat the elements and keep your locks perfectly cared for, we've got a list of tips and power products to help you through the season.
| image courtesy of sporty and rich |
First, I believe in a good scalp massage every day. Studies have shown this can reduce hair loss as it stimulates the hair follicle and increases blood flow, both of which help to promote hair growth.
Try to embrace the darker hair colors. Fall is the best time for a color change! Rich browns, warm copper, and caramel tones are popular this season, which contrasts nicely with the changing leaves. Less bleach makes for healthier hair. 
Switch out your pillowcase for a silk one to help minimize breakage and the dreaded frizz, a hairstyle's worst enemy. The luxurious fabric doesn't tug on those delicate strands and helps prevent moisture loss. Plus, you'll feel like royalty resting your head at night.
Hopefully, you're moisturizing your skin, but you shouldn't stop there. Your hair needs to be tended to as well and a weekly mask is a great start, but I recommend picking up a lighter cream so you can ramp up to every other day. After all, we put our hair through a lot with everyday pulling, tugging, and applied heat.
This one is for my curly-textured peers: pick up a microfiber towel. We all love wrapping ourselves in a large, plush towel after a shower, but our hair is most fragile when wet and it can disrupt our curls. Microfiber is a more gentle alternative.
| image courtesy of fashion gone rogue |
| image courtesy of fashion gone rogue |
My last tip for you is also my least favorite and gives truth to the old adage "beauty is pain," but here we go-- take a cold plunge! Colder temperatures can constrict blood vessels in the skin, a process called vasoconstriction, which can reduce swelling and inflammation. It also seals our hair cuticles and helps lock moisture into the strands themselves. If you have the fortitude, take a deep breath, turn that dial to cold and let it wash over you.  
Shop our recommended hair products 
Act + Acre Cold Processed Scalp Detox
Olaplex No. 3 Hair Repair Protector
Oribe Supershine Light Moisturizing Hair Cream 
 More beauty and self-care from the EG gals 
A Minimalist's Fall Beauty Guide
The Pursuit of the Parisian Red Lip
Rituals | Ambiance for Bath Time
Honey Please | Our Guide to Our Favorite Wellness Secret