The Pursuit of the Parisian Red Lip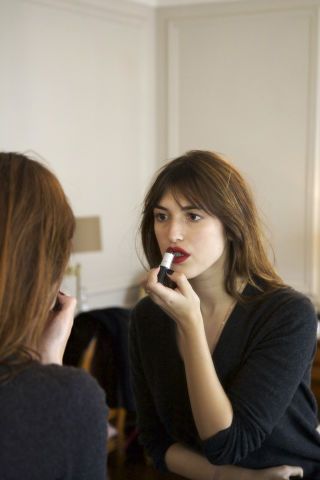 |image courtesy of harpers bazaar |
My pursuit for the ultimate red lip started in July on an Elsie Green sourcing trip to France. While in Paris I was asked, "what's the one thing you hope to take back with you?" There were many things, but in terms of one material item, I wasn't sure. I knew I wanted to bring home something that captured the feeling of the fashionable Parisian culture. I channeled the street style and confidence of the buzzing city and and set my attention on the unapologetic bright red lips that ruled the city streets.
| image courtesy of pinterest |
My girlfriend and I ventured into Citypharma (the French pharmacy) to find a red lipstick for our evening excursion. I scooped the most neutral red I could find, a La Roche-Posse similar to the classic Dior 999. With our lipsticks in hand, we found a little cafe to settle down for some aperitifs with a view. There, at the table using my camera phone as our mirror, we decided to go for it! We carefully lined our lips and put on a pout. Of course, she looked fabulous, but somehow the color quickly turned pink on me. This wasn't my winner, but it made for an adorable video of us I'll always cherish.
| image courtesy of @sarahhalliwebeauty |
The following day, after strolling down the streets of Saint-Germain, surrounded by gothic architecture and chic locals, I found myself once again inspired to find a makeup store en route to dinner. It was here that I found it, my perfect red: Mac Ruby Woo, a vivid blue-red.
I knew I had done well when I texted a picture of my new look to the Elsie Green chat and the girls cheered me on. Now, the sentiment lingers whenever I pull this lipstick out of my handbag. I'm reminded of how lucky I am to have gone on a Parisian adventure, found inspiration, and discovered a new layer to myself.
Yes, I'm romanticizing a lipstick, but the moral still stands: don't be afraid to try something bold and channel inspiration from the world around you.
| image courtesy of pinterest |
Being a lover of the matte look, my search yielded some of the most beautiful reds in a cheeky color range:
True (Neutral) Red
Rare Beauty Lip Soufflé Matte Cream Lipstick in Inspire
Orange-Red
Westman Atelier Lip Suede in Tomato Red (pictured above)
Blue Red
NARS Powermatte Lip Pigment in Starwoman 
 Dark Red Tones
For more of our beauty insights, take a peek at these posts >>
Simple Self Care Products That Make You Feel Good As New