A Conversation with Aran Goyoaga of Cannelle et Vanille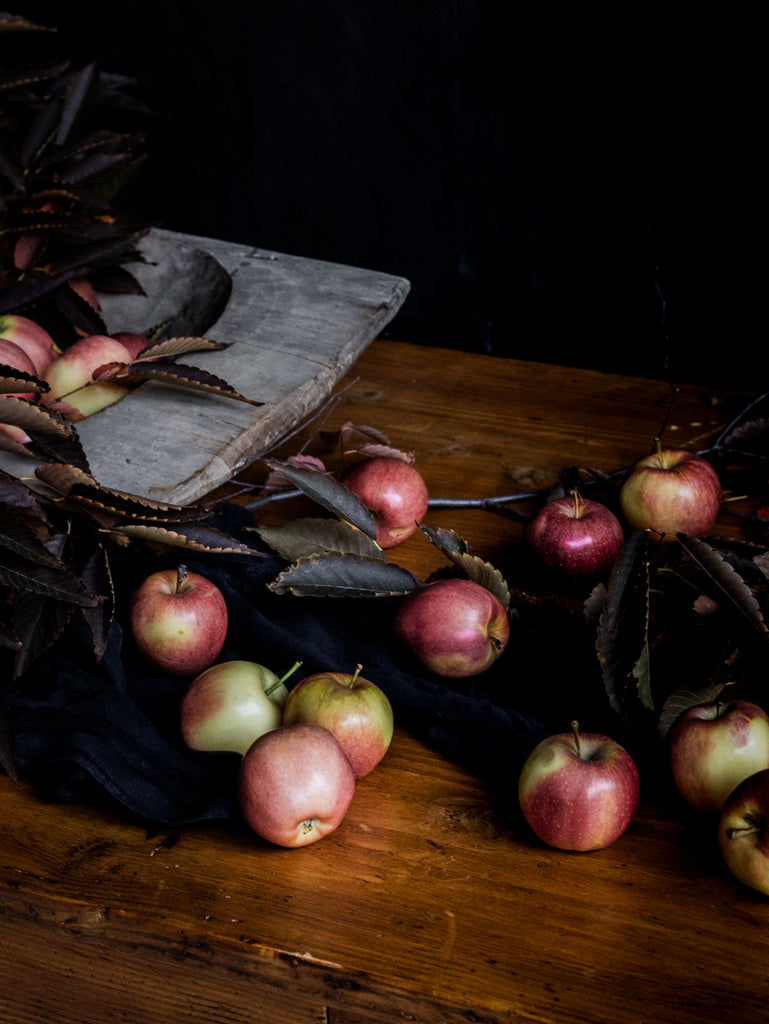 | image courtesy of aran goyoaga |
Aran is a Seattle-based, Basque Country born and raised, author, food stylist and photographer.  Her work focuses on the emotional component of food and everyday life through visual stories.
Her cookbook Cannelle et Vanille  is one of our Elsie Green favorites.  And her new book Cannelle et Vanille Bakes Simple is out now.  
We sat down with Aran for a chat about food, entertaining, and her secrets to enjoying her own dinner parties.  
| image courtesy of aran goyoaga |
Tell us a bit about yourself. What drew you to cooking?
I grew up in a professional pastry kitchen. My maternal grandparents owned a pastry shop across the street from our home. My mom, their eldest child, worked in the pastry shop along with my uncles and aunts so I spent all my time outside of school there. My brothers, all our cousins, and I gathered there for meals, to do our homework, and help out on the weekends. I couldn't really escape cooking. I was in it since birth.
| image courtesy of cannelle et vanille |
How do your Basque roots influence and inspire the recipes that you create?
Simplicity and integrity of ingredients are probably the pillars of Basque cooking. Sourcing the best quality ingredients, to be guided by seasonality, and food that is wholesome and healthful is really at the core of how I approach cooking and those are values that important in Basque cooking.

There is an artistic element to what you create, and it strikes through that you deeply care about and love what you do. It feels like an expression of joy. How can we channel that energy during the most hectic season for hosting?
We all express creativity and joy through different activities. I love a party that feels collaborative and a bit of an orchestrated arrangement of talents. If you are having people over for the holidays, get them involved to help. For example, if someone in your family or group of friends loves to cook more than you, let them take the initiative. If you would rather focus on setting the table, then do that. Maybe have someone else in charge of music. Or you cook the entire thing and others clean up. Everyone loves to help and I think it makes for a more relaxed gathering.
| image courtesy of cannelle et vanille |
Do you have a favorite memory related to cooking around the holiday season that you'd be willing to share with our readers?
So many. Our family loved Christmas, but operating a pastry shop at the height of the holiday season meant everyone was exhausted by the time Christmas Eve rolled in. Everyone working those days pulled all-nighters on the days before Christmas, my mom included. We kids helped deliver pastries on foot or whatever other little tasks needed to get done. The shop closed at 6pm and all the adults collapsed. But by 7 or 8pm (remember we are talking about Spanish dinner times!), my grandmother would pull out the large stock pots and begin cooking the main course for the night. One of my fondest memories was helping her make braised lamb. She used to accompany the stew with fried artichokes. I stood on a green stool next to her dipping artichoke hearts in flour and egg wash to later fry in olive oil. My mom still makes it that way. Also, my aunt Aran's Ensaladilla Rusa was epic.

What are three things every good gathering should have?
Number one – good food. People love good food. Doesn't have to be extravagant but make sure it's good! Simple, rustic, textural, and healthful.

Number two, ambiance. This includes a relaxed table setting, music and lighting. Again, the setting doesn't need to be fancy (in fact, fancy equals uptight in my book and that is the opposite of relaxed). But textures on a table are important. Mix linen, ceramic, metal, glass, vintage and new pieces and some branch clippings or floral element. Lighting is really important to me. I turn off overhead lighting and rely on side lamps, accent lights and candles to create a mood. Warm lighting please! And have a playlist that doesn't interfere with the conversation.

Number three, conversation. It's probably the most important of the three in my opinion. Think of some ways to engage your guests in conversation that is meaningful. I love to think of some questions ahead of time that I can throw around and it's especially true if you are bringing people together that might have not known each other well.

As a host, how do you make space and create moments to connect with your guests?
It's my favorite part of a gathering! That's why I like to have a menu where I can make most of the dishes ahead of time so I am relaxing when people arrive and I can engage with them. I have a large island in my kitchen and it's where we all love to hang out anyway and it's a perfect setting to start conversations. After we eat, I will move around our dining room table and talk to different friends and insert myself in the different conversations. I go for controversial topics if the space and mood allows. I like a little bit of back and forth and see how different people approach and view different topics. I grew up with respectful yet heated after dinner conversations so I never shy away from them. It doesn't seem to be that common anymore especially in our current climate but I still like to push things a bit in that direction.

We're big on playlists at Elsie Green. What are you listening to while you're in the kitchen? Do you have a favorite playlist for when you host gatherings?
I have a
playlist with over 24 hours of music
that I play constantly. It's a bit chaotic and represents my eclectic music taste so I play this mostly when I'm in the kitchen by myself or with people I know. For a holiday gathering where we might have a wide arrange of ages and tastes, I'll probably go the jazz route or even Henry Mancini or Vince Guaraldi. Loved by all.