Elsie Green x Able Shoppe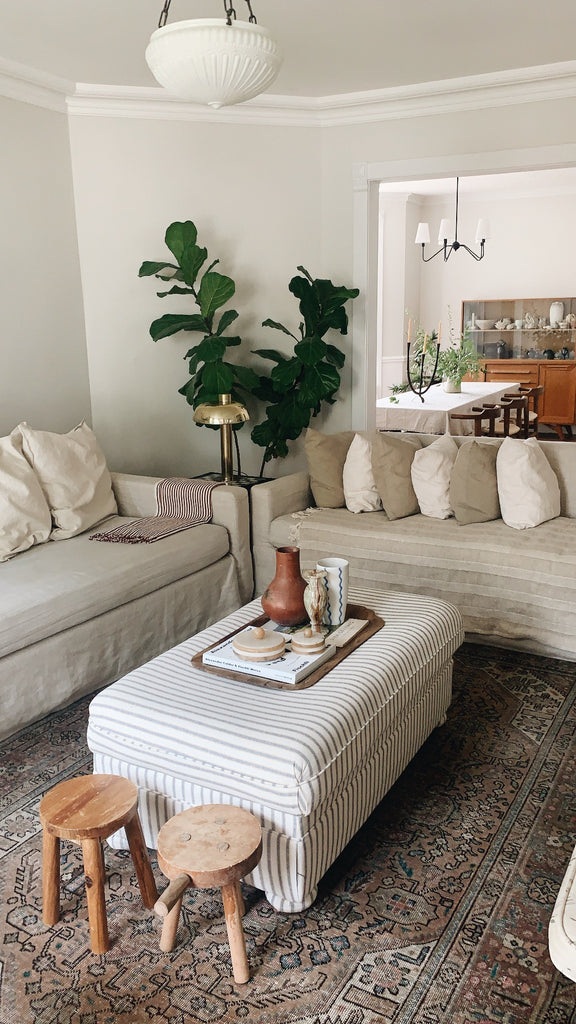 A short while ago, we introduced our Instagram friends to our friend to Liv, the founder of Able Shoppe and owner of a beautiful home on the outskirts of Chicago. Today, we're sharing a petite interview with Liv and more photos of her carefully curated home and shop. Keep scrolling for a peek at the spaces she has designed and a bit of insight on her process and journey as a shop owner.
"Hi there! I'm Liv, founder and owner of Able Shoppe, a vintage concept shop outside of Chicago. Our house is an 1892 Queen Anne Victorian and was previously owned by a stylist for David Bowie! I live only blocks away from my storefront and enjoy walking to work and looking at the beautiful vintage homes along the way."
What sparked your love for vintage? 
I remember loving vintage ever since I was a little kid. The textures, colors, and materials always felt way more interesting and unique. In high school I started wearing and decorating my room in vintage, going antiquing, and exploring flea markets with my mom. My love for vintage grew even more during my time in college studying art and art history. The hunt and the beauty is a total thrill for me.
How would you explain your personal style?
My personal style for interior decorating is always evolving. Currently our home is light and cozy with moments of cobalt blue, checkers, stripes, and vintage objects I've sourced over the years. I am drawn to spaces that are layered and collected, a bit like an art gallery yet accessible and inviting. I enjoy building around well-made mid century, antique, and primitive pieces. Nearly everything in our home is vintage or secondhand!
What pushed you to make the leap of opening a retail store?
I decided to make the leap of opening a brick-and-mortar store for my business, Able Shoppe, this past January! Having been an online shop for several years, I had the desire to create a physical space where I could interact with customers and host events one day! I love the opportunity to visit a shop whose journey I have been following along with on instagram, so I wanted to create that experience for my customers as well!
What color did you paint your home?
Last summer we painted the exterior of our home Rosemary by Sherwin Williams. This summer we are hoping to tackle the landscaping. I'm picturing lots of white hydrangeas to pop against the dark green!
What is your favorite thing about your home?
My favorite thing about our home is the natural lighting and character! Our previous home was dark and compartmentalized, so as someone who spends a lot of days working from home, good lighting makes all the difference!
Tell us a little about your background
I have a BFA in painting and drawing with a minor in art history, which has influenced my career and business in a lot of meaningful ways. Out of college I worked as a stylist and freelance art director. I had started Able Shoppe in 2016 as a side passion, but eventually quit my stylist job in 2017 to pursue the business full time. Over the years I have continued to work as a stylist and art director on the side. My favorite project was art directing a music video for the band the Head and the Heart!
What advice would you give to people wanting to incorporate more vintage pieces into their home decor?
If you are looking to incorporate more vintage pieces into your home decor, my advice would be to look for quality and timeless materials such as linen, cotton, marble, wood, copper and iron. Embrace imperfections and character! Start with neutrals and add pops of colors.
What is your favorite part about your job/being a shop owner?
My favorite part about being a shop owner is meeting people, curating & styling, and the thrill of the vintage hunt!
Favorite Elsie Green treasure that you've had your eye on
I have had my eye on the washed linen sheet sets.
What is the number one place on your travel list to visit once it is truly safe to travel again?
My number one place on my travel list to visit once it is safe again is definitely Paris! My husband and I had to cancel an anniversary trip out there due to Covid, so I am still dying to frequent the Parisian cafes and flea markets! Sourcing for the shop while I travel is one of my all time favorite activities.