The Paris Journal | Victoria Smith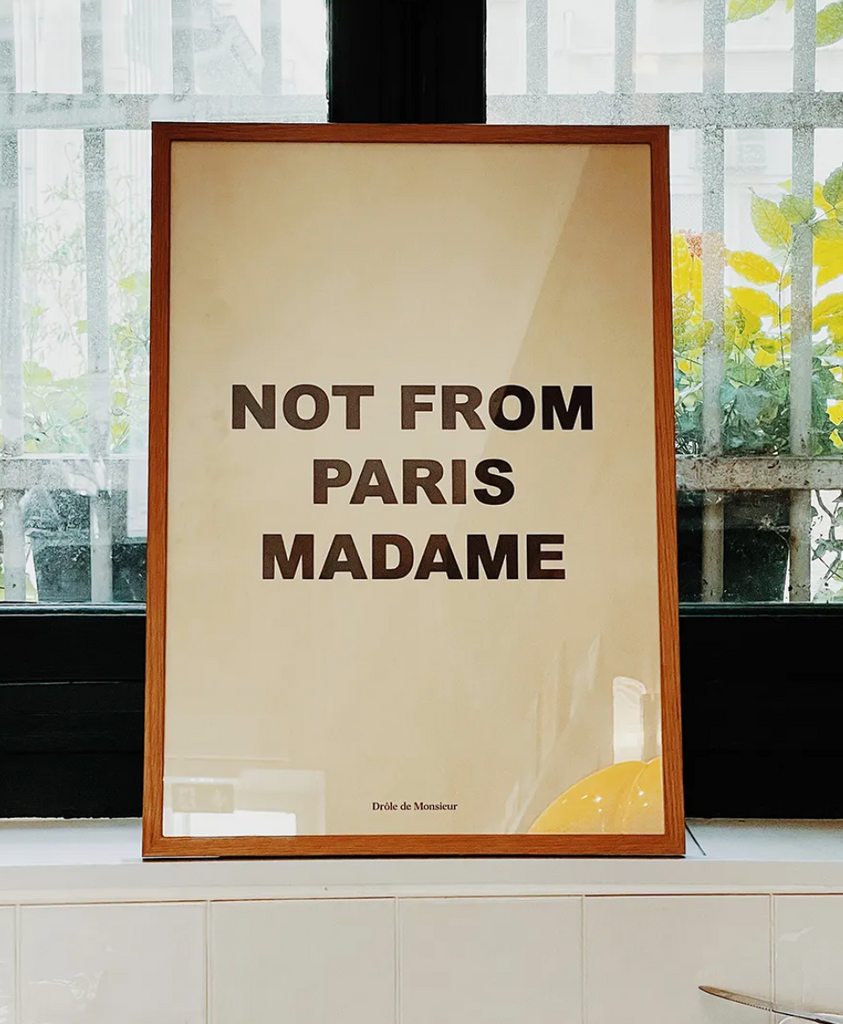 | image courtesy of sf girl by bay |
When we're planning a trip, there are a few people we turn to for their recommendations.  One is our friend Victoria Smith, Curator of  Super Marché and editor of SF Girl by Bay.  Victoria has a cool, bohemian style that we love. And she knows how to get the most out of a quick trip or a long holiday.   Read on for Victoria's Paris list.  
| image courtesy of palms and bricks |
What hotels would you recommend to someone who is traveling to Paris for the first time?
I love the Hoxton Paris. It's very affordable for all they offer, beautiful, stylish rooms, comfortable, duvet-covered beds, wifi, and breakfast service if you want it, plus in-room dining. Downstairs is a large beautiful atrium with food and cocktail service, and then there's another restaurant and quiet bar lounge upstairs. The decor is sublime, and it's a great neighborhood to walk from or take the Metro. Also lovely and in the same neighborhood is Hotel Grand Boulevards, and it's equally as beautiful, and the rooms are charming.
| image courtesy of sf girl by bay |
Do you have a favorite arrondissement?
I just explored the 10th near Canal Saint-Martin for the first time, and I fell in love with it. Tons of shopping and charming cafes, and you can picnic on the Canal, as well. It's charming and unpretentious but very up-and-coming and a short walk from Le Marais, also a favorite neighborhood of mine.
You have 24 hours in Paris, how do you spend it?
In a perfect world, I'd arrive when the Brocante de la Rue de Bretagne is happening in Le Marais (it's held twice a year). They close off blocks and blocks of streets for a huge flea market with over 500 vendors, and I'd wander and shop for a few hours. Then I'd head to lunch with friends at Mokonuts and have a lovely, long 4-course dejeuner with them.
| image courtesy of paris je t'aime |
After lunch, we'd head to the Jardin de Tuileries and take a turn on my favorite ride there. It takes you way up into the air and spins you around with a 360-degree view of Paris, including the Eiffel Tower and the Louvre.
| image courtesy of the spaces |
I think a brief nap at the Hoxton Paris might be in order and then dress for a late dinner at Septime.
The next day, I'd have croissants and a cafe au lait in bed and then make a trip to Merci for some shopping and a late lunch in their Used Book Store Cafe. Then I'd stop into Bonton to take a photo in their old-fashioned photo booth - the perfect Parisian souvenir.
If you have 90 minutes to take a walk through Paris, what is your route?
I'd start at the
Hoxton
and head first to
Marché de Montorgueil
to sample all the delicious Parisian delicacies sold by the grocers and food vendors that line the streets for blocks. From patisseries to boucheries, seafood mongers and divine cheese shops you can eat your way through this charming street and shop to take a few things home.
I never leave without stopping into my favorite bakery Stohrer for a strawberry tart or an eclair.
Then, to walk off all those calories, I'd head over to Shakespeare & Company, one of the few English-language bookshops in Paris, founded by George Whitman, an American in 1951. It's right on the banks of the Seine, opposite Notre-Dame and a lovely place to walk to.
If you had to choose only one exhibit or museum to visit while in Paris, which would it be?
I actually haven't been yet, but some friends just loved the Yves Saint Laurent studio tour. 
We think there are some things you just must see and do on your first visit to Paris, but share the least touristy recommendation for someone visiting Paris for the first time.
Just walk. Don't take Ubers, don't take the Metro, just walk and walk and see Paris slowly. I've logged 7-10 miles on a good day in Paris, and there's nothing better. Plus, you walk off all the croissants, baguettes, and pastries you've consumed throughout the day!
| image courtesy of house beautiful |
Share your favorite vintage shops in Paris.
I recently went to
AXS Design
for the first time, which was amazing.
The shop owners and designers Ariel Novak and Sydney Sabatier couldn't have been kinder and more welcoming, and their vintage curations are just so special and surprisingly affordable. And not vintage per see, but s
haring the same courtyard with AXS Design is the incredible Antoinette Poisson, where they hand-print wallpapers inspired by 18th-century interiors, using designs and motifs based on original creations and prints from historical archives. It's a beautiful shop. 
And lastly, the stalls around the Paul Bert Serpette flea market are wonderful.
What products are you leaving Citypharma with?
NUXE Huile Prodigieuse Multi-Purpose Dry Oil, Bioderma Sensibio Foaming Gel Cleanser, Caudalie Beauty Elixir Face Mist Toner, and the one that always flies off the shelves and is hard to find: Embryolisse Lait-Crème Concentré, Face Cream & Makeup Primer - hunt that one down! 
| image courtesy of bon appetite |
What's your best-kept secret for traveling in Paris? A bakery, cultural event or site, and pastry shop that only you know about?
I don't know if I'm the only one who knows about this, but I love stopping for a mid-day break from sightseeing and shopping and having a dozen oysters and a glass of champagne at
Sur Mer
at their outdoor tables. It revives you and gives you a second wind for the next few thousand steps.
Share your favorite restaurant.
I just went to
Mokonuts
for brunch, and it was amazing. It's teeny-tiny, and you should make a reservation far in advance if you're able. They only serve breakfast and lunch, and everything is super fresh and delicious. The menu changes daily based on what's fresh and local.
Share your favorite cafe.
I really love Brasserie de l'Isle Saint-Louis. It's got a wonderful view of the Seine and Notre Dame, and it's a wonderful spot for people watching.