Non-Alcoholic Elixirs in Moroccan Glass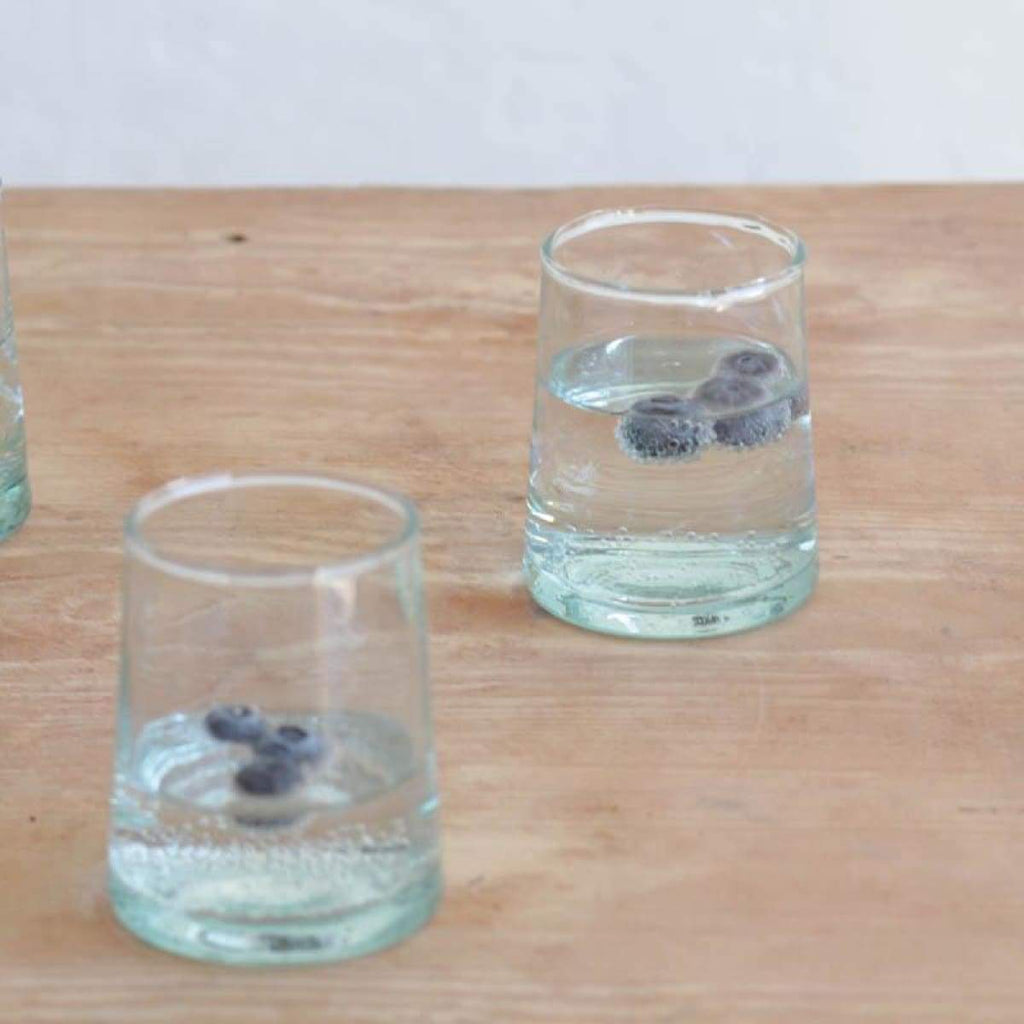 We have a different moroccan glass for serving each of our favourite non-alcoholic elixirs. 
Virgin Frozen Apple Margarita (recipe serves 6)
Blend 3 cups of sparkling apple juice, 2 teaspoons of finely grated lime rind, 2 tablespoons of freshly squeezed lime juice, and 4 cups of ice cubes. 
Then salt the rims of each of the Moroccan cocktail glasses, and garnish them with sliced green apple and lime zest.  
Pour the frozen mixture into each glass, cheers & enjoy. 
We like to sip our Arnold Palmers from our tall Moroccan tumblers. Arnold Palmers are the perfect summer drink and so easy to make. They are 1/2 part lemonade and 1/2 part iced tea.
For the lemonade, we use 3 cups of water, 3/4 cups of freshly squeezed lemon juice and 3/4 cup granulated sugar. In a pot over medium heat, boil the water and sugar to a boil, stirring them together for 2 minutes before letting it cool. Then combine this syrup to the remaining 2 cups of water and lemon juice. 
For the tea, you will need 3 cups of water, 1/3 cups of honey, and 5 black tea bags. Boil the water over medium-high heat, then add in the honey and stir until it dissolves. Then turn off the heat, add the tea bags and let it steep for 5 minutes. Remove the tea bags and let cool. 
Then mix the tea and lemonade together in a large pitcher with ice, mint and lemon wedges and serve in our favourite tall Moroccan tumblers. This recipe serves 8. 
The Moroccan Tea Glass can also be used to serve sweet non-alcoholic elixirs in the summer time. One of our favourites is the popsicle punch. 
Simply combine 4 cups of lemon-lime soda, 4 cups of lemonade and 1 can of seltzer for 6 servings of punch. Pour the mixture into the moroccan tea glasses and garnish them with a fruit pop of your choosing for garnish. We like to use strawberry or mango fruit pops. The fruit pop helps to keep the punch cool, adds a bit of sweetness and looks so cute in your glass!