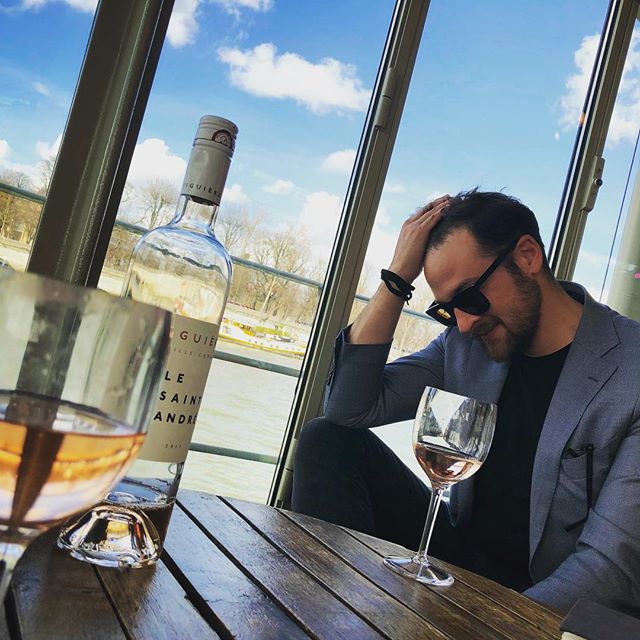 What makes Elsie Green special is our people.  We've got a few former corporate executives, a floral designer, an event producer, a former accountant, and a vintage collector.  But we're all shopkeepers at heart, manning the packing table, giving our signature brand of extraordinarily personal service in the shop, traveling the French countryside looking for pretty things, and playing with the merchandise all day.
Meet Joey, our Warehouse Manager and one of our newest team members. Joey has joined JP as one of two men on the team, and in his free time, he loves to ride motorcycles, travel, draw, and paint. At Elsie Green, you can find him keeping our busy warehouse in tip-top shape.
Read along to learn more about Joey and stop by the shop to say hi!
What's your favorite way to spend your free time?

I have way too many hobbies. When I have free time I love cycling. I'm big on bicycle camping and touring, but weekend rides to Marin and mountain biking are fun too. I usually commute on my bike to EG as well. I also dabble in rock climbing. I'm currently planning a trip to Red Rocks, Las Vegas for a climbing trip, and I think it's one of the best places for climbing in the world. I spend a lot of weekends riding my motorcycle. I would like to ride down the coast or into the mountains every weekend, but I have an old and temperamental bike, so many a weekend I'm just wrenching on the motorcycle instead of riding it. Lastly, I spend a lot of time doing watercoloring and sketching.  I studied illustration in college and I still try and pull the sketch book out from time to time.
What books are you currently reading?
I'm currently in the middle of re-reading a couple of my favorites: The Demon Haunted World by Carl Sagan and The Silmarillion by JRR Tolkien.  I usually have one fiction and one non-fiction going and these two are some of the densest I've read in a while, but they are incredibly rewarding and I really recommend them. If you feel like you can wade through them, you should!
What is your all-time favorite movie?
This question is impossible to answer, but I love the 60's comedy It's a Mad, Mad, Mad, Mad World. I studied film for a hot minute and I used to work at one of the biggest video rental stores in the country, so I have LOTS of opinions on movies.
What's your favorite travel destination?
The first time I left the US, I traveled to Hanoi, Vietnam and bicycled around the north of that country for almost a month.  It was a pretty life changing experience for me.
What's your dream travel destination?
Definitely mainland China. I got the travel bug from my grandmother, and she always wanted to see the Great Wall of China but never made it. I feel like I want to go and see it for her.
 What's your daily uniform?
Black. Black button up or t-shirt, black jeans. Boots at work, Vans or Toms the rest of the time (black, of course). Maybe it was art school, or the fact that I'm a messy eater, but black always seems to make sense.  Also, it makes it a lot easier to pick out an outfit if everything always matches.
 Joey's Top 10 Things He Can't Live Without:
FPR Guru Fountain Pen: A workhorse fountain pen with a flexible nib that's great for drawing expressive lines.

Moleskine Watercolour Notebook: Watercolor paper that can take a beating - for those of us who are less talented and rely on erasers.

 Sennelier Watercolor Travel Kit: Fancy French watercolors that live up to the hype. And they're made with honey!

 Zodiac Custom Messenger Bag by Trevor Beanes: A truly talented bag maker whose bags literally last for decades. So far he's made two bags for me and I love them and use one or the other daily. 

 Anker Noise Canceling Headphones: A train commuter's best friend.

SmartWool Socks: Great for all weather and truly comfortable. I would wear all wool all the time if I could, but for now I'll settle for the socks.


Belstaff Waxed Canvas Motorcycle Jacket: Cool-looking off the bike, and safe, warm and dry on the bike.  It's Ewan McGregor's favorite motojacket brand too.


Kryptonite U-Lock: I've had mine for almost 20 years and I feel like that says something about how good it is.


Sugoi Cycling Bib Shorts: Skip the jersey - Cycling bib shorts are a revelation - if you ride more than 15 miles in a go, you'll appreciate these. And now they make them with pockets too!


Pinhead Locking Skewers: Keeps your bicycle wheels on your bike without a second lock.