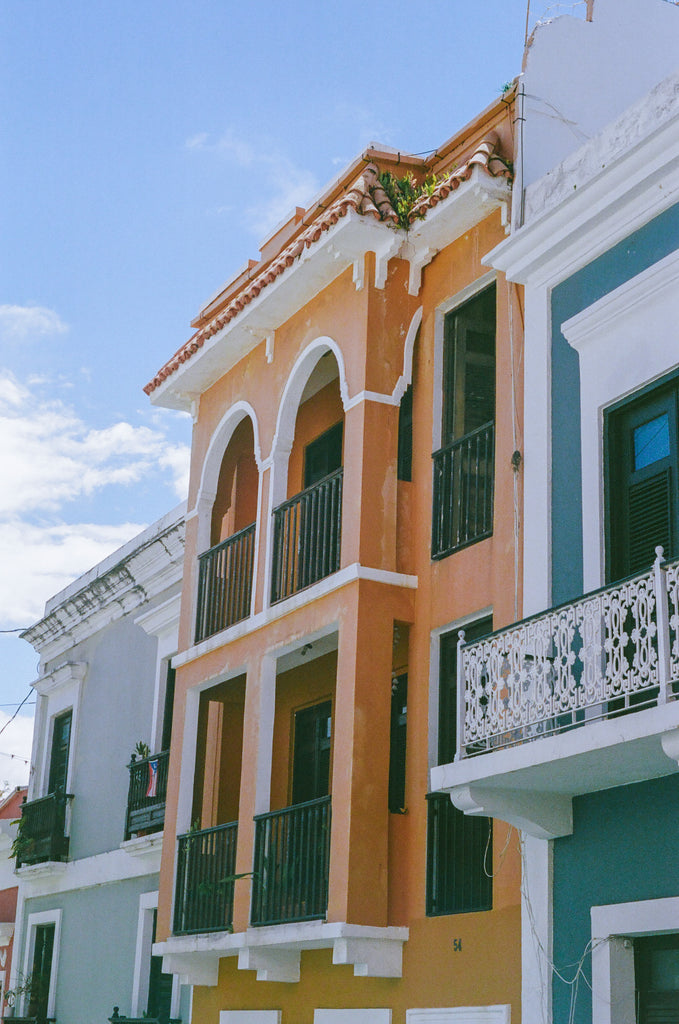 To escape the grey New York winter, I recently traveled to San Juan, Puerto Rico. To say I was floored by the natural beauty, kind locals, and delicious food is an understatement.
The people of Puerto Rico have been through so much in the wake of Hurricanes Irma and Maria, and I was amazed by their resiliency and hope for the future. Puerto Rico has been working to get back on their feet and rebuild their beautiful island since 2017. Tourism is a major foundation of Puerto Rico's economy, and I was so moved by the generosity and openness of the locals that I met there. Being welcomed to their island was a pleasure and a privilege.
If you haven't yet visited Puerto Rico, please consider this my formal request that you do. Take a scroll, soak in the beautiful colors and landscape, and book that ticket already.
Photos were shot on my vintage Minolta camera on 35mm film.
Where to Stay
I stayed at this hotel in Condado, near Old San Juan. It was beautiful, historic, and best of all, pink. The service and views were fantastic, and the taco bar didn't hurt either.
If you're looking to stay closer to the heart of San Juan, this European-inspired boutique hotel is perfect. It's inspired by vintage design and DaDa art, and is situated right in the heart of San Juan's art and food district.
Where to Eat
Santisimo
Have the ceviche, red snapper, and a cojito (mojito and piña colada combined), and thank me later.
Fresh, homemade popsicles? Say no more. Perfect to snack on while shopping in Old San Juan.
Unless you are up for a crazy night out, I suggest going here in the afternoon. It has a gorgeous atmosphere & delicious cocktails, and according to the Internet, it's one of the best bars in the world.
What to See
 Old San Juan

One of my favorite things I did the entire week was go on a very long walk around Old San Juan. This is the historic, oldest part of the city, and it was stunningly beautiful. Take a camera, admire the colorful buildings, and spend a few hours getting lost here.
Castillo San Felipe del Morro

Some friends and I went here around sunset, and it was a group favorite. A perfect spot to sit for a while, and walk to Santisimo for dinner and cocktails afterward
Miami Building

I am 99% sure this is an apartment building, but it was right down the street from my hotel, and one of the most beautiful things I saw all week. As my mother likes to say, it was very 70s Los Angeles.
What to Do
El Yunque National Rainforest

This is the only rainforest in the US National Parks system, and it is worth the trip. The rainforest is about an hour and a half outside Old San Juan, but if you rent a car, hiking to its natural waterslides and waterfalls are a must-do. 
 Bioluminescent Kayaking
This excursion is not for the faint of heart, but on a clear, dark night, you can see the whole bay glittering with bioluminescence. TripAdvisor offers many nighttime tours, and it is definitely worth it.
Read more Elsie Green travel guides >