Fashion Muse | Julia Roberts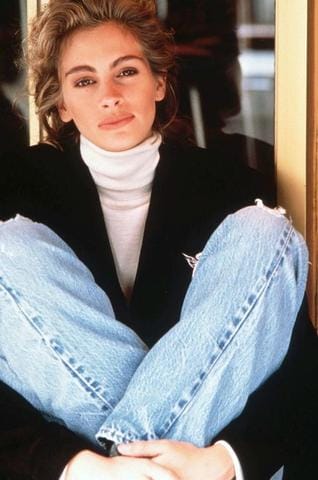 |via|
As a self-proclaimed romantic comedy connoisseur, rom-coms of the 80s and 90s are my preferred film genre. If you're like me, you've also seen Notting Hill, Pretty Woman, Runaway Bride, My Best Friend's Wedding, and Mystic Pizza approximately 50 times each. During my recent rewatches of these classics during lockdown, Julia Roberts became my new style crush.
|via|
In the past couple of years, we've seen a revival of classic 90s trends everywhere. But what makes Julia Roberts' style so effortless and classic is its timelessness. She wears a uniform of basics that can be reworn a million different ways, which is a philosophy we like to live by at Elsie Green.
|via|
While we continue watching Notting Hill on repeat, we've been itching to recreate some of Julia Roberts' most iconic looks. Read on for some inspiration of your own.
|via|
Get the Look: Floral Dress, Crew Socks, Loafers
|via|
Get the Look: Floral Slip Dress, Jean Jacket, Black Boots
|via|
Get the Look: White Turtleneck, Black Blazer, Jeans
|via|
Get the Look: Overalls, Tank Top
|via|
Get the Look: Red Coat, Beret, Jeans, Sunglasses
|via|
Get the Look: Leather Jacket, Button Down, Sunglasses
Other ladies in our Fashion Muse series