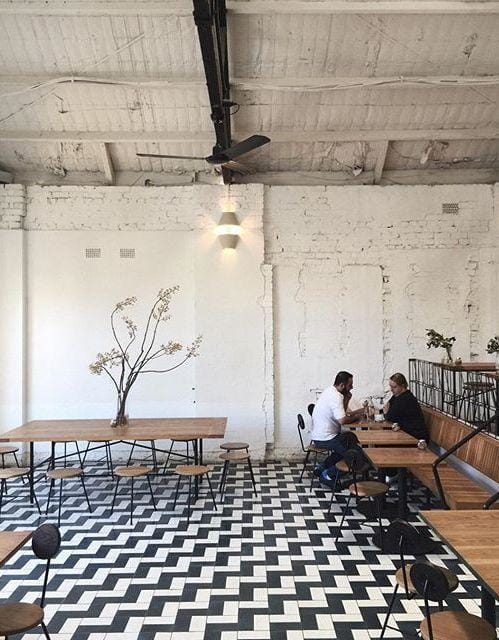 Pattern play is never out of style.  The addition of a patterned rug or tile grants the ability to elevate any space in a uniquely chic way.  As such, it gives you the opportunity to either keep the rest of the space simple and neutral or to build on on the pattern in areas within the room with complimentary colors and textures.  Selecting the appropriate pattern for your space is important as you want the pattern to draw the eye in but not entirely distract from the surrounding area.  The goal, of course, is to simply make it feel as if the patterned floor was meant to be there not forced into a space it does not belong.
x
pattern on pattern, what a lovely combination.  we have always had a soft spot for Media Noche in San Francisco.  their infamous floor and decoration continues to inspire.
this patterned floor adds the perfect touch of movement in this neutral tones space
this bathroom, playing off of the colors in the patterned tile on the floor, is both bold and chic.  the eye is automatically drawn to the beautiful patterned tile, but the rest of the space is just as well curated and special.
a bright and inviting room, centered around a gorgeous patterned floor.  the furniture and other decor in the room compliments the browns, yellows, and whites present in the patterned tile.
a classic black and white checkered floor.  truly unmatched.
both the patterned rug and marble patterned tile in this bathroom have us swooning.  we love how simply chic this space is.  it strikes the perfect balance between inviting and sophisticated.
this large area rug brings every element of the space together.  not only does this patterned rug create cohesion, but it also brings dimension and texture.
Xx,
The Elsie Team