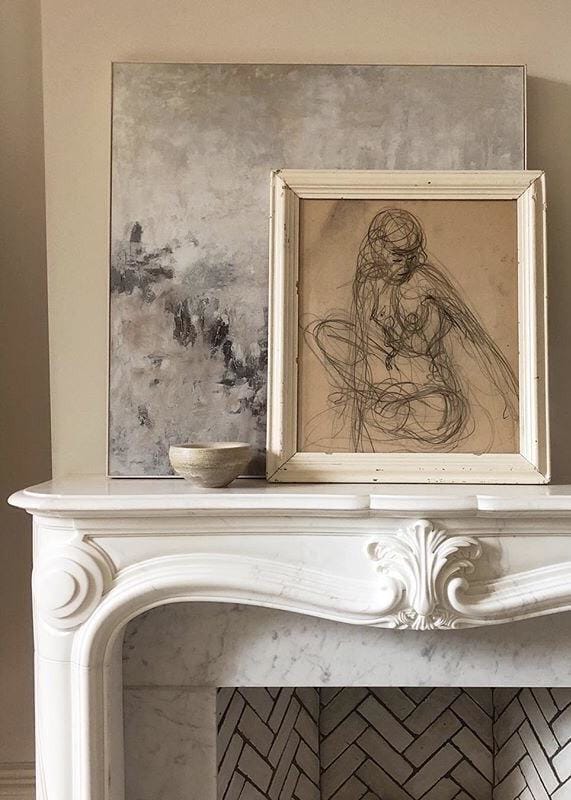 If you have been to either of the Elsie Green shops, you know about our extravagant collection of vintage oil paintings.  From florals, to landscapes, to portraits and more, we have a soft spot for all beautiful art.  We are suckers for a wall filled with oil paintings, but also believe in the power of one single stand alone piece.  Mixed matched collections, framed or unframed, canvases or boards, the possibilities are endless.
x
We love to style our art in an unexpected, or what may be deemed abnormal, location.  A few of our favorite spots: the shelf in your kitchen, leaning in an armoire, or hanging in the bathroom. 
-
this vintage oil painting adds just the right pop of soft color to this bathroom
-
by adding this vintage still life oil painting, the armoire instantly becomes brighter and more inviting to the eye
-
you don't quite expect this gorgeous oil portrait to be sitting in the kitchen, but it stands out in the most perfect way
x
We, of course, love the traditional practice of hanging vintage oil paintings on the wall.  However, we also love a stacked collection leaning prettily against a wall.  Varying shapes and sizes help in creating a layered look that we swoon over every single time.
-
there is nothing quite like a gallery wall of gorgeous vintage oil paintings
-
the different heights of this collection allows you to see corners of each oil painting creating the perfect layered look against the wall
-
we have always loved how the Musée d'Orsay in Paris showcases their beautiful pieces
x
There's something about a large collection of oil paintings all with a very specific underlying tone or aesthetic.  Whether it be all neutrals, a grouping of portraits or florals, or all oils on stretched canvas, we can't help but be drawn to an array of one thing.
-
 this collection showcases not only the same coloring but also the same subject
-
a vintage portrait is one of our favorites.  put them in a collection, and voilà, magic
-
clean lines and simple framing, a gorgeous collection that doesn't distract
x
As always, if you are in need of further inspiration head over to our
Pinterest
. We have a
special board
dedicated to our affinity for vintage oil paintings.  Additionally, if you're looking to add to your personal art collection come stop into the shops or take a peek at our
assortment
available on our
site
.
Xx,
Shannon