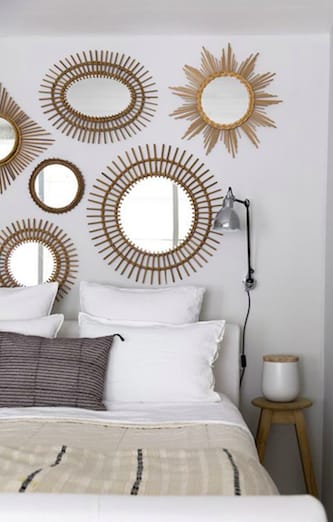 We think a decorative vintage mirror is an absolute must.  It adds the perfect architectural element that draws the eye in.  Plus, you know the Elsie team always appreciates a high quality mirror selfie. 
-
Our usual assortment of mirrors is generally comprised of vintage Louis Philippe mirrors in colors ranging from black to gold to white.  You can spot this style of mirror by its' curved top edges paired perfectly with straight sides and a straight bottom.  We also love to collect barber mirrors, bamboo mirrors, and a variety of other vintage mirrors we find along the way.
x
a pretty little black Louis Philippe mirror in the entry
wall of bamboo sunburst mirrors
this gold Louis Philippe mirror brings the perfect balance to this moody bathroom
when we say stand out piece, this is what comes to mind
a wall of mirrors featuring a variety of shapes and sizes
trend alert: a perfectly round mirror
we love how simply chic this bedroom is with a gorgeous large black mirror
small collection of barber mirrors hanging pretty on the wall
we can't look away from this beautifully bold moment
x
As always, if you're in need of more inspiration, head over to our Pinterest.
Xx,
The Elsie Team
Reflections I Chic, Unique Mirrors in the Bath