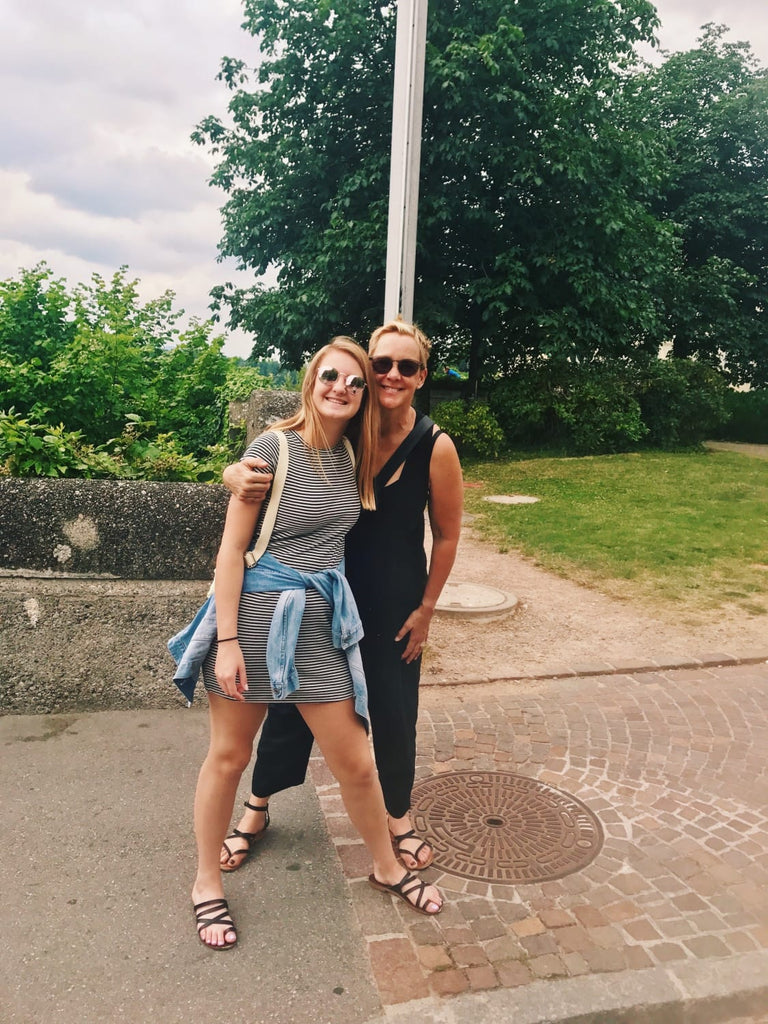 What makes Elsie Green special is our people. We've got a few former corporate executives, a floral designer, a former interior designer,  a vintage collector, a teacher and a high school senior.    But we're all shopkeepers at heart, manning the packing table, giving our signature brand of extraordinarily personal service in the shop, traveling the French countryside looking for pretty things, and playing with the merchandise all day.  
Meet Laurie, our Founder and Creative Director.  Laurie spent many years as a corporate executive, but much prefers working on the shop displays, editing photos, and shopping the French countryside for treasures. 
Read on to get to know her better and stop by the Concord shop to say hi.  
|via|
Favorite way to spend your free time?
When I'm not in the shop,  I'm traveling  (when it's allowed), reading, or strolling through a museum, usually with one or all of my three children.  I am always cultivating a new hobby.  Sometimes it's working on my French fluency, sometimes it's a boxing class.  I have at least two cameras with me at all times, my phone and a Leica pocket camera.  So for the fall I am really excited for a RISD online photography class on my calendar.  
|via|
What are you reading right now?
I am in the middle of reading The Vanishing Half at the moment.  But I've always got something going.  

Here's my list of my all time favorite reads >
Here's our list of this year's summer reads >
What is your all time favorite movie?
I love movies and soak up all aspects of the movie as I'm watching:  costume design, set design, art direction, music. It's hard to choose.  But if I had to choose just one, I would say The Red Violin.  It traces the story of a violin from its maker in 17th century Cremona to present day through all its owners.  
Favorite travel destination you've visited?
Seriously.  I cannot choose just one.  My sister and I had a wellness retreat in Bali a few years ago and I'll never forget the magic of that island.   My daughters and I had a month in Europe a few years ago and spent a week road-tripping through Switzerland, then spent a week in Crema, Italy living like locals.  It was the summer after Call Me by Your Name came out in theaters and we were able to see the film on a big outdoor screen in the square where much of the movie took place.  More magic.  
A follow up question - What is a dream travel destination you would like to visit?
Every year for the last five years my sister and I have done a wellness retreat somewhere in the world.  This year because travel is so limited, we're planning our retreat in Sedona, Arizona.  I'm very excited to experience the vortexes.  
Read about some of our past retreats
Daily uniform?
Most days you can find me in jeans (my favorite here), boots or sneakers (my favorite here), a t-shirt and a sweater or jacket of some sort.  That's when I feel most like myself.  I do love a jumpsuit though, or a skirt with a t-shirt and sneakers.  And when I'm home, I love a chance to spend a day in my pajamas.  
|via|
What are your 2020 resolutions?
Rather than make a list of resolutions, I usually choose a guiding word for the year.  This year it was Simplicity.  The past few years have been a bit crazy, so I decided I wanted to simply focus on what's important to me:  family, creativity, health.  It's really helped me focus my energy.  Before I embark on anything, I ask myself "will this simplify my life, or complicate it."  If the answer is not "simplify," I don't do it.  
Top Ten Things I Can't Live Without
Laurie's chosen non-profit is Smile Train.   Read about our partnership with Pledge, an organization that allows us to donate a portion of each sale to ten causes, each one chosen by one of our team members. >
Read other blog posts by Laurie
Meet the rest of the team