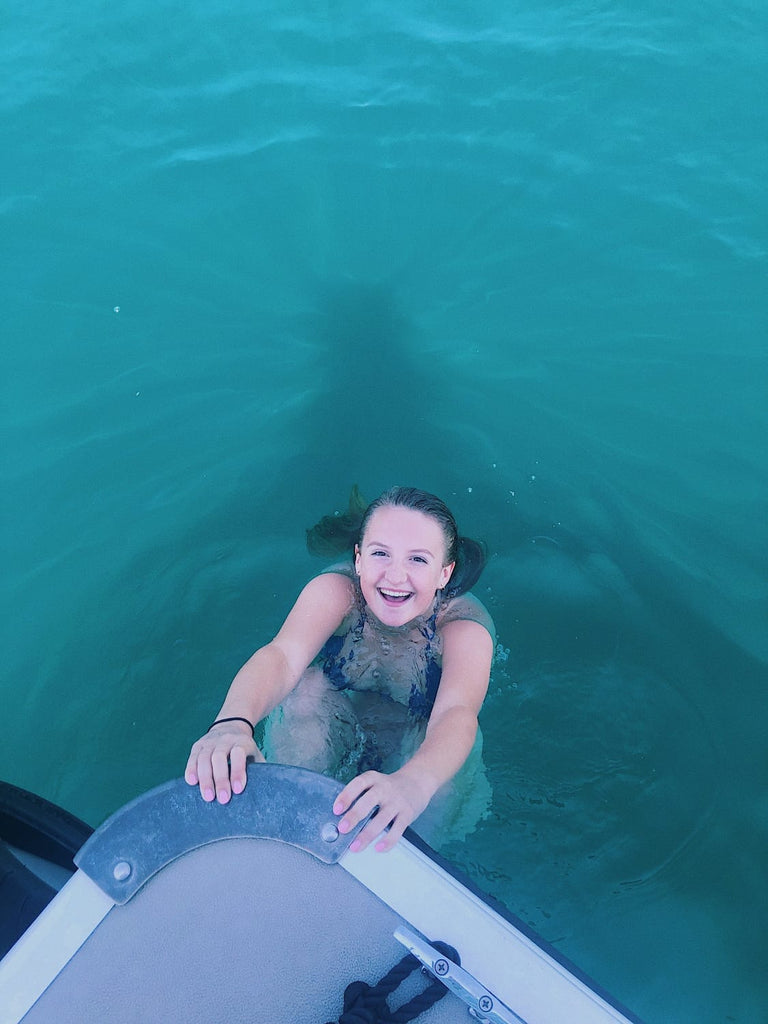 What makes Elsie Green special is our people. We've got a few former corporate executives, a floral designer, a former interior designer,  a vintage collector, a teacher and a high school senior.    But we're all shopkeepers at heart, manning the packing table, giving our signature brand of extraordinarily personal service in the shop, traveling the French countryside looking for pretty things, and playing with the merchandise all day.  
Meet Katie, our Intern and newest team member. She works on the packing table, getting all your orders pretty and ready to ship for you.  She's a high school senior, lover of jigsaw puzzles, and an avid traveler. She's 17 and has already been to Europe three times and Australia once.  More adventures to come!  Read on to get to know her better and stop by the Concord shop to say hi.  
Favorite way to spend your free time?
I like choosing a spot to watch the sunset with my friends at least once a week.  I am a vegetarian, so trying new restaurants is fun for me.  My favorite is The Slanted Door.  And I am a big fan of a good movie marathon.  I'd like to read. more, but as a high school senior with college apps due in a few months, it's hard to find the time. 
When you find the time to read, what's on your list?
I am currently making my way through Untamed by Glennon Doyle.  And I just finished Normal People by Sally Rooney.  After the new year, when I have more time, I want to read:
Red White and Royal Blue by  Casey McQuiston
Where the Crawdads Sing by Delia Owens
What is your all time favorite movie?
My all time favorite is Bohemian Rhapsody, but there are a few close seconds.  When I'm feeling nostalgic, I like Harry Potter.  When I want something light, I like Captain America.  And a new favorite this year is Ford vs Ferrari.  My mom, my sister, my grandma and I watch The Oscars every year and try to see all the best picture nominees before the show. 
Favorite travel destination you've visited?
A few years ago we visited Crema, Italy (where Call Me by Your Name was filmed.)  We stayed in an apartment on the main walking street and lived like locals for five days.  It was magical.
What is a dream travel destination you would like to visit?
I've spent lots of time in Europe, but none in Asia.  I would really like to visit Japan. 
Daily uniform?
I have an older sister and a stylish cousin who lives in Australia who both influence my style.  Most days you can find me in my favorite jeans, some comfy sneakers, a cute tank and an oversized sweater or sweatshirt.  I'm not big on accessories but I have a necklace from Kendra Scott that I wear every day.   When I decide to dress up, I like to wear all black or black and white with my Doc Martens or some sandals.  Heels are not really my thing. 
What are your 2020 resolutions?
Like most people, 2020 did not unfold as I expected, and I am not seriously into resolutions as some people are.   But I did resolve to indulge in a little more self care, starting with my teeth.   So I got a new electric toothbrush with a 2 minute timer and have been very good with that resolution.  I really like the Arc Whitening Booster.   I brush with it for a minute after brushing with regular toothpaste and my teeth are so nice and white. 
Katies Top Ten Things She Can't Live WIthout:
Katie's chosen non-profit is the Leukemia & Lymphoma Society.   Read about our partnership with Pledge, an organization that allows us to donate a portion of each sale to ten causes, each one chosen by one of our team members. >
Meet the rest of the team