Layer Up | The Art of The Necklace Stack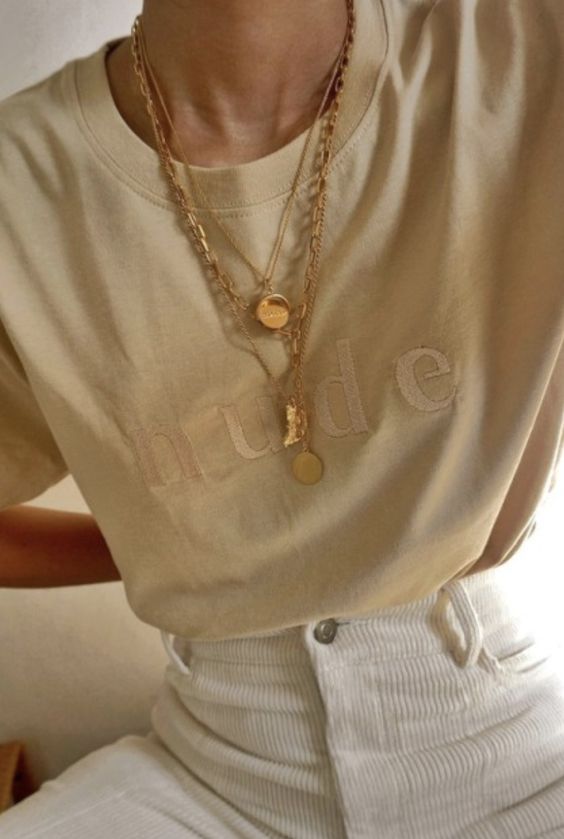 | image courtesy of Tumblr |
| image courtesy of Pinterest |
Maximalism. Minimalistic. You can go either direction when it comes to your adornments. When it comes to jewelry, however, it doesn't have to be one or the other. There are ways to not be too heavy handed when you are creating a stack, or layers as it were. You can have many layers in the stack and still keep it looking fresh and light.
There is a fine art to the necklace stack. You want to put a grouping together that compliments without detracting from each piece. Multiple strands of different lengths keep it interesting, and if you choose different styles and thicknesses of the chains, the combination immediately looks interesting. To me, its like collecting objects while traveling...each piece has a story to tell, and when styled the right way, creates a harmonious story unique to you. 
I love a thread of commonality with the stack, and typically it is the type of metal. Various lengths and chain types that are all gold is a wonderful place to start. And if you choose to mix metals, having only one strand of silver in your stack of gold is a fun way to mix things up. 
One rule I do like to follow to keep things looking intentional instead just a random jumble, is having a some of the chains charm free, and then having a singular charm on a few of the other chains in the stack, all at varying lengths. This trick lets those charms do the talking, and keeps the sight line interesting. 
The best thing about the necklace stack is that it looks immediately cool with a t-shirt and jeans, or with a button up that is only buttoned up part way.  All of the très cool French gals are doing it, and its one of those looks that easily translates.
Scroll through to see the necklace stacks that I find inspiring, and shop my favorite strands and charms below. Bon shopping!
| image courtesy of Rare Vintage |
Shop Sarah's Favorite Necklaces and Charms: