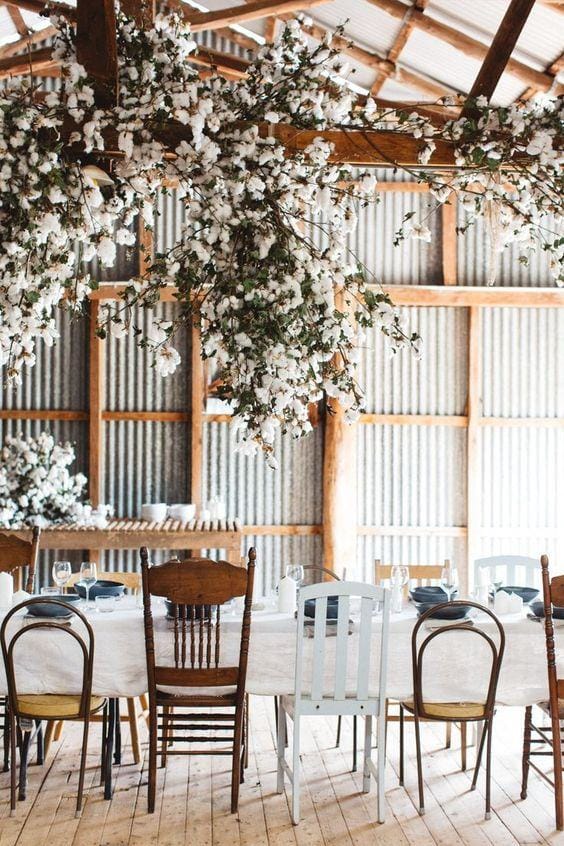 |via|
|via|
Many years ago our friends at Kinfolk Magazine introduced a fun party idea:  a flower potluck.  Instead of  food,  each guest brings an armful of botanicals to share with the group.   
Kinfolk Saturdays: Hosting a Flower Potluck from Kinfolk (kinfolk.com) 
We've run away with it and designed our own foraged flora version of the event.  We love the idea of making a day of it.  Invite your guests to venture out into nature with their clippers looking for beautiful branches, flowers, ferns, mushrooms, dried anise and other pretty things to share.  
In any other year, we'd send out an e-vite, and invite our guests into the house for an afternoon of food, drink and flowers.  But this year, the party requires some modifications.  
The Invitation
Instead of an e-vite, we think it's a good year to send a hand written paper invitation to a few close friends. These are our favorites.
Monochrome Florals Notecard Set >
Be sure to give your guests good instructions to spend some peaceful time foraging.  It's a nice, meditative luxury that we rarely make time for.  And give each guest a time frame to stop by, drop their botanicals and choose some new ones.  And be sure to remind your guests to wear their masks, to stick to their time frame to keep the crowding to a minimum, and to bundle up, as the party will be outdoors.  
|via|
The Prep
Create a nice, floral inspired playlist to play from your bluetooth speaker on the day of the party.  If you don't have time to create your own, no worries. We've got one for you here >
Pick up something fun for your guests to carry their florals home.  We like these.
|via|
Whip up a batch of a nice drink and some cookies for your guests to enjoy while they're perusing the botanical offer.    We like our Lavender Lemon Spritzer .  It's light and fresh, and is just as tasty with blood orange and rosemary.  If your guests don't drink, it's also delicious without the vodka.  And we like this Lemon Herb Shortbread  to continue the botanical theme.  
You can package your spritzer and cookies in single serve containers and tuck them into each guest's tote.  We like these Weck Mold Jars for your cookies and these larger Weck Mold Jars for your spritzer.  
If you really want to tickle your guests' fancy, add a Liberty of London face mask to their tote.  
Make sure you have a long table and a pretty cloth to cover it.  A piece of plywood on a pair of sawhorses will do, or a folding plastic party table.  If you don't have a big tablecloth, a vintage sheet or a few painter's tarps will give your the same pretty, simple elegance.  
The Party
On the day of the party, leave yourself plenty of time to do some foraging of your own.  See our list of our favorite meditation apps here.  A guided meditation is a nice thing to have in your ears while you're exploring with your clippers.  Make sure you have enough botanicals to start so your first guest has plenty of choice.  
Set up your big table in your front yard or back, depending on where you have the best spot to see your guests but still spread out.  Or if you're lucky enough to have a barn or open gazebo, set yourself up in there.  Spread your botanicals, some newspaper or tissue paper for wrapping, and some twine with a cutter on the table in whatever way looks pretty to you. 
Add a few fragranced candles if you are so inclined.  We love this spruce candle for a holiday fragrance.  
Pack your totes and treats and stage them in a big basket by your table.  
Cue up your playlist, light your candles, park yourself in a comfy chair and wait for your first guest to arrive.  The staggered invitation times will allow you to really enjoy your time with each guest, and you can take photos throughout the day to share with your entire guest list after the party is over.  
At the end of the day, you'll have a table full of botanicals left by your friends and a heart full of memories.