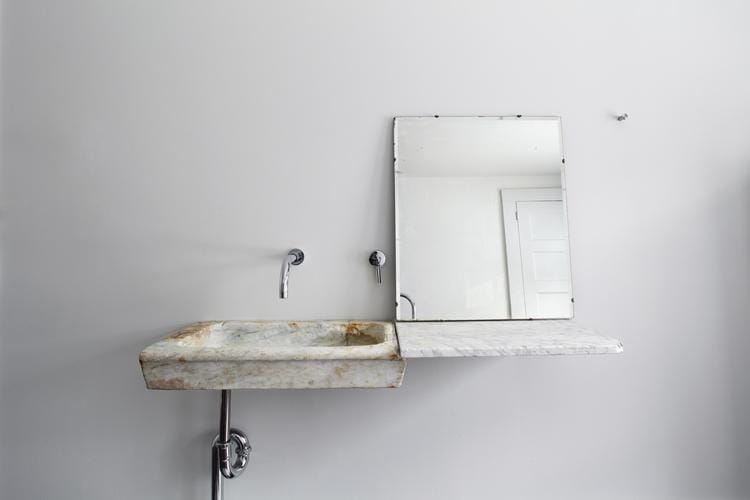 all images |via|
the modern curtain glass wall overlooking the barn and river  shows how one element can transform a traditional structure into something truly unique
I use the word "obsessed" very rarely.  So consider that when reading my next statement. I have become obsessed with an 1820 Catskills house dubbed Floating Farmhouse for its covered porch that extends out over the river's edge.  
I do love a traditional farmhouse with lots of land and a few outbuildings.  But this one especially captures my imagination with its unapologetically modern addition, bare bones materials aesthetic, and minimalist approach to decor.  Every detail is thoughtful and implemented with impeccable quality and a ruthless editor's eye.   That's how you renovate a farmhouse.  
the master bedroom has three important elements:  the beams overhead, the original dark floor and the vintage mirror.   all the rest seems to be put in place to serve those elements
the original dark floors are preserved throughout the house, then transition to polished concrete in the kitchen, which is a new addition.  we think that's a good strategic design decision:  if the floors can't match, they should sharply contrast 
rather than the vanity you'd expect, the master bath has a 200 year old marble sink with an offset frameless mirror.  the modern plumbing brings the whole arrangement into the 21st century.
the barn has been renovated to retain most of the original elements inside, but also to mimic the glass curtain wall of the house