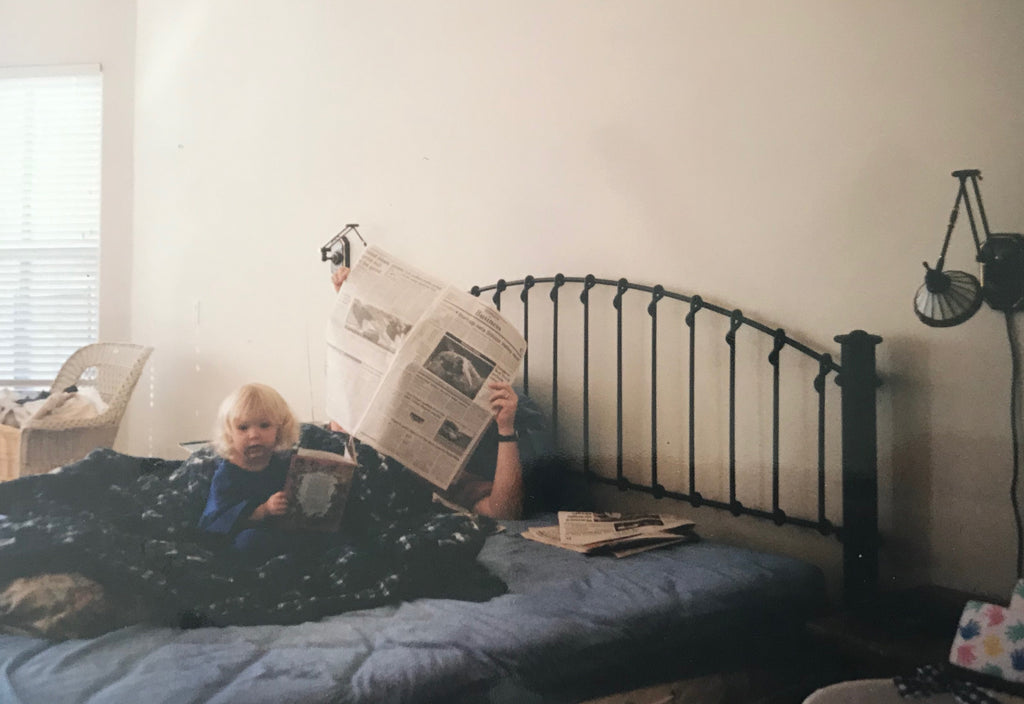 |me & my dad jp circa 1996|
I am lucky enough to have a lot of special fathers in my life. My dad, JP, the guy you all know and love as the only man on the Elsie Green staff, has always been such a role model for me. He takes such good care of us, and I feel very grateful to get to celebrate him every Father's Day. Along with my Grandpas Jim and Doug, I am a very lucky girl to have so many wonderful men in my life.
|me & my dad jp|
|me & my paternal grandpa jim|
|me & my maternal grandpa doug|
 This year, we're looking forward to fêting the special dads we know a little extra. I chatted with my dad JP (check out his Meet the Team post here) to see what kind of gifts he'd love to receive this Father's Day, and he gave us the inside scoop. 
|me, my brother jack & my dad reading|
 Yeti Roadie Cooler - My dad has a cooler from the 1970s he refuses to part with, but that doesn't mean he can't get an upgrade.
Elsie Green Vintage Copper Pot - My dad is an amazing cook, and something like this would take his recipes to the next level.
Ray Ban Sunglasses - Get him a pair with a vintage feel to remind him of the good old days. My grandpa Jim has worn the same pair for 30 years. 
A Good Book - I love to send my grandpa Doug copies of books I read that I know he'll love. I recently sent him Dreams From My Father by Barack Obama, and he wrote me a letter back in the mail to tell me how much he loved it.
Patagonia Fleece Jacket - My dad loves all things outdoors and my Grandpa used to be a park ranger, so Patagonia is fool-proof in my family.
Air Fryer - The air fryer is a new addition in our house, and my dad is still trying to master it. 
Fried Egg Pan - My dad is an eggs for breakfast every day kind of guy, and this little pan is the best way to make sure he nails it every time. 
 Monogrammed Leather Wallet - My dad's had the same wallet for years, so I'd love to get him a new one this year.
Breakfast on You - My dad and I have a tradition of going to the same restaurant for breakfast every time I'm home to visit, and it's usually his treat. But this year, it's on me.
Segway Tour of Your City - Years ago, for my sister's birthday, my parents took her on a segway tour of San Francisco. Katie liked it, but my dad LOVED it. Book one in your city for you & your dad to do together.
|me & my dad & my brother| 
Grasshopper Summer | An Unexpected Reward >
5 Essentials for the Perfect Picnic >