Fashion Muse | Bill Cunningham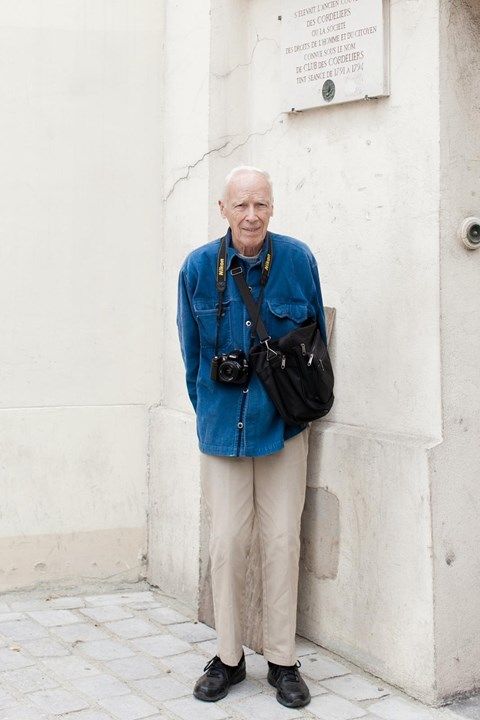 | image courtesy of dazed digital |
My mom and I are longtime admirers of Bill Cunningham, his French work jacket, and his genius street photography. My mother introduced me to Bill's work years ago, and we've been avidly following his photos and career ever since, and even after his passing in 2016. Recently, it came to my attention that none of the EG gals had even heard the name Bill Cunningham, and I was floored.
| image courtesy of harper's bazaar |
Bill's uniform during his long career was always the same: khakis, loafers, button downs, and a vintage French work jacket. Its brilliance was in its simplicity, and his commitment to consistency. However, Bill's real genius was in his keen eye for spotting cutting edge fashion on everyday New York streets. Bill's work days consisted of riding around New York City on his bicycle and capturing candid shots of stylish people for The New York Times.
| image courtesy of harper's bazaar |
Bill's big break came in 1978, after years of casual photography, when he took an unassuming photo of actress-turned-recluse Greta Garbo on the street. Rather than focusing on the woman herself, Bill was zeroed in on her coat. He famously said upon seeing her, he thought "Look at the cut of that shoulder. It's so beautiful. All I had noticed was the coat and the shoulder." This photo caught the attention of the Times, and an icon was born.
| image courtesy of garage |
 For this installment in our Fashion Muse series, we decided to put a spin on our usual format. Bill Cunningham was a style icon not only in his own dress, but almost more so with his keen eye and taste. To capture the attention of Bill on the street was the ultimate goal of New Yorkers for decades, and his legacy has completely redefined the art of street photography. As my mother and I always say when we visit New York, "we're dressing for Bill."
| image courtesy of harper's bazaar |
 We've compiled some of our favorite photos of Bill, his subjects, and the streets of New York. We've also included links to some of our favorite pieces to channel Bill's signature uniform, and a couple surprises to learn more about Bill and his work. 
We love you, and we miss you, Bill. 
| image courtesy of put this on |
| image courtesy of us magazine |
| image courtesy of refinery 29 |
| image courtesy of new york times |
| image courtesy of style caster |
| image courtesy of the new york times |
| image courtesy of women's wear daily |
| image courtesy of the new york times |
| image courtesy of steal the look |
| image courtesy of fashion magazine |
| image courtesy of harper's bazaar |
| image courtesy of the new york times |
| image courtesy of the new york times |
| image courtesy of racked |
 Channel Bill Cunningham's Signature Uniform
Banana Republic Organic Chore Coat (Bonus points for the oversized men's silhouette)
Everlane Oversized Alpaca Crew in Cobalt
Everlane Silky Cotton Relaxed Button-Down
Doc Marten Mono Smooth Leather Oxford Shoes

Immerse Yourself in Bill's Genius
Bill Cunningham: On the Street: Five Decades of Iconic Photography
Bill Cunningham Was There: Spring Flings + Summer Soirées
Fashion Climbing: A Memoir by Bill Cunningham
Bill Cunningham New York film trailer
 Loved this post? Check out the rest of our Fashion Muse series >