Fall Essentials | Our Fall Sweater, Coat, Midi Skirt, and Flat Edit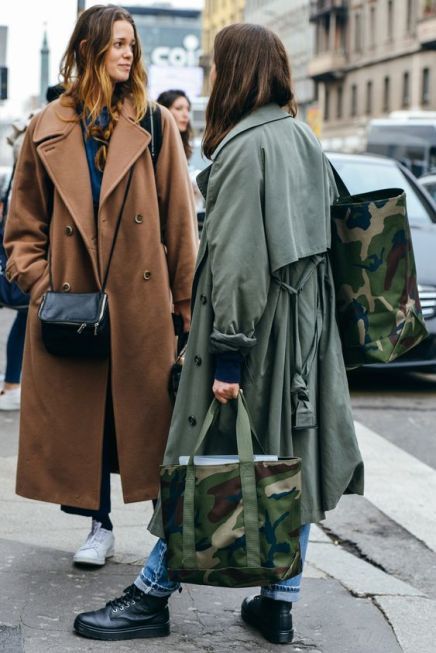 | image courtesy of Society 19 |
| image courtesy of popsugar / photography by style du monde |
 We're buying less and less each season, so when we do make additions to our closet, our purchases are thoughtful and considered. We lean into trends less often and invest in the classics. This season we're considering knits, coats, skirts, and flats.
Take a peek at the edit.
| image courtesy of pinterest |
Coats
A complete coat collection should include three styles: a trench, a long black wool coat that can play double-duty for day and night, and a coat with a unique detail like a print or shearling. 
Stand Studio Oversized Quilted Shell Coat
| image courtesy of british vogue |
Knits
 Knits are a must for fall; an obvious statement to be sure. These three styles will round out your sweater collection:
| image courtesy of popsugar |
The Midi Skirt
I'm leaning into skirts this year and diversifying my selection of bottoms by investing in 2-3 skirts for fall. At the top of my wishlist is a denim midi skirt, but every fall wardrobe needs a pleated wool skirt as well. Consider these options:
Flore Flore Liv Organic Cotton Midi Skirt
| image courtesy of pinterest |
Flats
I'm not quite ready to commit to boots full-time at the start of fall, so you'll often find me in flats for the first half of the season, or at least until it gets too cold to go without socks. A flat is the ideal transitional shoe between summer and fall. I mostly rotate between three different styles: a loafer, a Mary Jane, and a leather flat. The loafer is the MVP of the season because it can be smartly styled with socks when the temperatures really begin to drop.
Aeyde Uma Leather Mary Jane Ballerina Flats
More fall fashion musings from the EG team >