Elsie's Edit | May Edition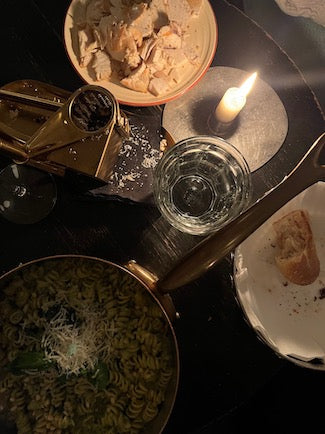 .  Elsie's Edit | May Edition
For 2023, I've decided to lighten up a bit and choose joy.  So in that spirit, May's edit is a round up of things that have brought me joy this month.  
I've begun my six week visit to Europe with my sister, my children, and a few friends joining along the way.  Here are some tidbits of joy I've found in the first weeks.
Hotel Bars
I started the month in Paris at Chateau Voltaire.  While I appreciate Air BnB and I have a few on my itinerary, there's nothing I love more than starting my evening in a hotel bar.  Each evening in Paris before heading out for our dinner plans, we'd meet in the bar for a drink and a chat.  
A Ham & Cheese Baguette 
After a rainy and fruitless walk, looking for a Sandwich Parisienne on a bank holiday, my friend Carolyn and I returned to Chateau Voltaire and they made us our sandwiches with a bowl of French breakfast radishes on the side.  It was pure simplicity.  
Surprises in the Night
After a particularly grueling visit to the top of the Eiffel Tower, we walked, hungry and tired, out to the street and voila! A Parisian crepe stand magically appeared.   Then when we arrived back to the hotel at 1am, ready to go to bed hungry, we found an Italian restaurant open across the street and had one of the best meals of our lives.  And one night last fall, JP and I were walking past Notre Dame and came upon a group of roller skating performers.  Paris really is the best city to stay up all night in. 
Walking
I had forgotten how lovely it is to explore a city on foot. I love my neighborhood in Oakland, but I don't walk around at night and I avoid certain parts of the city, so I've dropped out of the habit of taking long walks and exploring. Paris is the perfect city for that.  
Peeping the Eiffel Tower from unexpected vantage points. 
A kir on the sidewalk on a busy afternoon in Montmartre after visiting Sacre Coeur. 
A313 and Biafine.  Two French beauty products my sister and I discovered at CityPharma after we asked the pharmacist the best French anti-aging secret. 
And lastly, the beauty of exploring the world and talking to taxi drivers, shop keepers and hotel bar keepers about their lives and their city.