Elsie's Edit | June Edition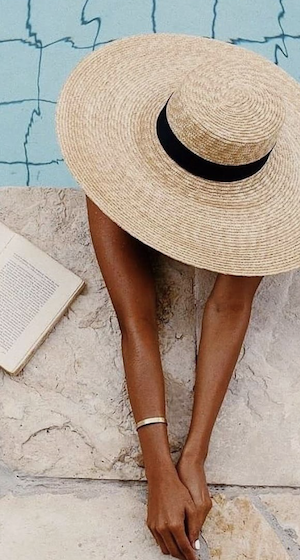 | image courtesy of momymall |
For 2023, I've decided to lighten up a bit and choose joy.  So in that spirit, this month's edit is a round up of things that have brought me joy this month.  
| image courtesy of frachella | 
Water
The pool, the beach, in a kayak, on a boat crossing the water.  It doesn't matter.  I love to be on or in the water this time of year.  
Heart Shaped Rocks
I collect them from various beaches I visit.  They feel to me like little bits of love in my path.  Katie and I took a long walk to one of the beaches in Île de Ré, and within a few minutes I found six pretty hearts on the beach.  I think Île de Ré loves me. 
Home Made Ice Cream
It's summer, and I always make ice cream in the summer.  My go to recipe is Chez Panisse Vanilla Ice Cream and I have always used a White Mountain Ice Cream Freezer.  But this year Tik Tok got me and added the Ninja Creami to my repertoire.  It's much simpler than the White Mountain's layers of ice and rock salt, and the ice cream tastes pretty darn good. 
| image courtesy of Carel Paris |
Sparkly Shoes
I splurged on a pair of metallic gold Carel mary janes when I was traveling.  I'm hoping to dance them off at my friend Pallavi's wedding this fall. 
My friend Carolyn and I like to share what I call our "media diet" with each other occasionally.  I think I get much more out of these sessions than Carolyn does, and in our last exchange she shared this gem with me.  The newsletter covers the American political landscape from the perspective of a professor of American history.  
The Family Photo Archive
Both my family and JP's have developed a tradition:  when we lose someone we love, we dig up all the old photos we can find and flood the family group chat with them.  I think it's one of the best uses of technology there is.
We lost my father-in-law a few weeks ago, and it warms my heart so see so many pictures of him as a young man.  Many of them I'd never seen before. It's an ongoing tribute to a well-lived life. 
Pre-school Graduations
I know Americans take a lot of flack for making a big deal about every little thing, but I'm a big fan of  celebrating the end of one chapter before beginning another.  I have three little buddies in my life who are going into kindergarten in the fall, and there is nothing cuter than an excited pre-schooler in a little cap and gown.  
that I bought on a whim when I was out window shopping on Sunday. 
Grafitti in Europe
I found the street art in Europe to be much more positive and optimistic than what I see in the states.  The message above painted on the sidewalk translates to "suspect me of the best."   And I think the message below needs no translation.