A Conversation with Griffin Wilson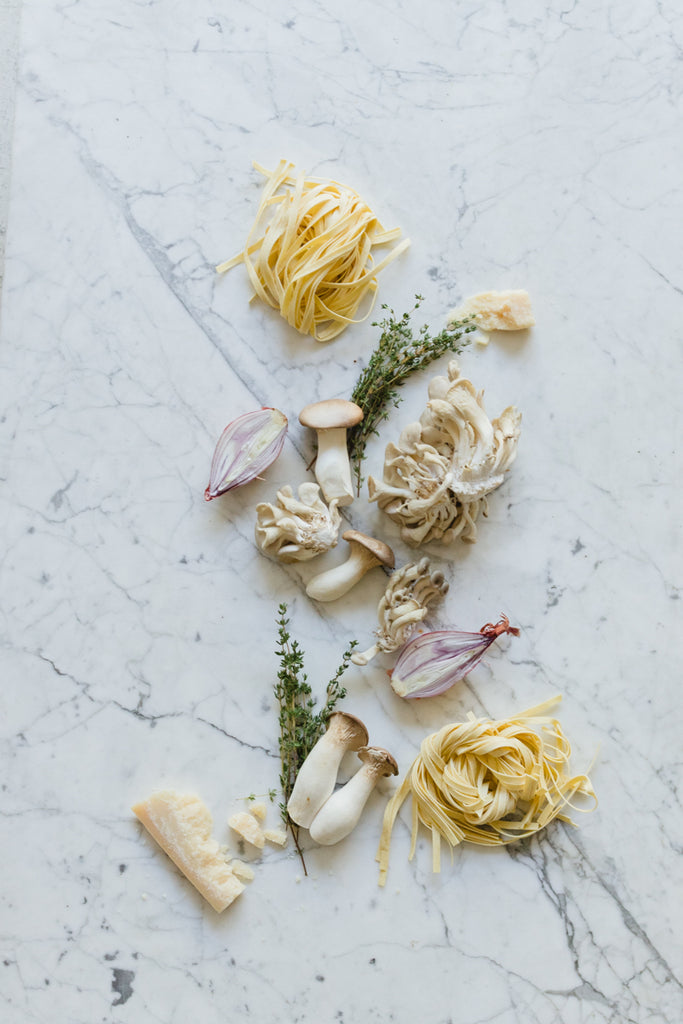 Griffin Wilson, also known as @cabincorn, is a special type of chef.  He's intimately acquainted with his ingredients and writes poetic odes to the mushroom and the radish.  He makes me feel like I could make the beautiful radish butter but also that I must study the radishes and the butter sufficiently before I attempt such a feat.  In short, Griffin loves and celebrates his food. 

We sat down with him to talk about his thoughts on food, cooking, pasta and of course, butter. 

| image courtesy of @cabincorn |

In five sentences, tell us and our readers about your relationship with food and cooking.

My mom is an incredible cook and she brought me to the kitchen with her.  I grew up working in food. I learned how to take apart a sausage press and how to roll out pasta before I could legally drive. I attended culinary school and from there, I cooked at quaint breakfast cafes, a full-scale vegan restaurant, a ship in Central America, an agriturismo in Northern Italy and Hawaii. For the last two years I have been fully removed from restaurant life and have found my niche in cooking for loved ones, small intimate gatherings, and large weddings.

What seasonal ingredients are you looking forward to incorporating in your fall menu?

I love the combinations that nature offers us during this season. Warming, sweeter, denser foods like squashes and stone fruit preserves. I have also been cooking wild game birds lately... you know, meals that can be eaten with a thick pair of socks on.

What's one traditional thanksgiving flavor that you absolutely always incorporate in your holiday menu?

Thyme, sage, mushrooms and poultry.

We want to surprise our friends and family with a few unexpected dishes rather than the traditional recipes we typically serve for fall gatherings. Can you recommend a unique side dish?

Traditional English bread sauce and a simple plate of roasted chestnuts.

We're big, big fans of your pasta content. Can you share a recipe for a good fall pasta dish?

I always like to utilize the previous night's roasts by shredding or cutting up some of the meat, a ladle or two of the cooking liquid in a pan to reduce, some of the veg, and a healthy portion of your favorite pasta. Adjusting the salt, a little pasta water, and covering it with some shredded parmesan is a sure way to reincarnate last nights meal.  

| image courtesy of @cabincorn |

Butter. Let's talk about it. Is there a right and/or wrong way to use it?

There are only a few rules when it comes to butter. When you are thickening a pan sauce you want to use some cold, cut up pieces of butter. Whenever you are sautéing something in butter, fortify it by adding some cooking oil or use clarified butter/ghee so that you don't burn the butter. Outside of baking and pastry, if a recipe calls for butter, always add more.

It's obvious from your instagram posts that each dish you make is propelled by your passion for utilizing seasonal ingredients and balancing flavor. There is an artistic element to what you create, and it strikes through that you deeply care about and love what you do. It feels like an expression of joy. How can we channel that energy during the most hectic season for hosting?

Use your kitchen as a hermitage to nourish your loved ones. Place your hands on living, fresh ingredients. Always be thankful that you even have a sliver of time to spend in the kitchen.

Tell us what to do with all of the pumpkins we collected for our fall centerpieces. 



Roast them in the oven, remove all the flesh, puree and freeze in bags in your freezer. They can then be used for soups, pies, pasta fillings, incorporate into mash, or you can make your friend some baby food. 

 

Tell us something you always make from scratch and something you always buy from the market.

I will always make my own flat breads and pasta dough and I will always buy ketchup because frankly, I rarely like homemade ketchup.  

Any must-visit local restaurant recommendations?

I live pretty far out in the woods and there aren't too many options for restaurants near by...but

Handline

in Sebastopol, and

Izikaya Gama

in Point Arena are two favorites for sure.