My Place | Worthy Investments for Your First Adult Apartment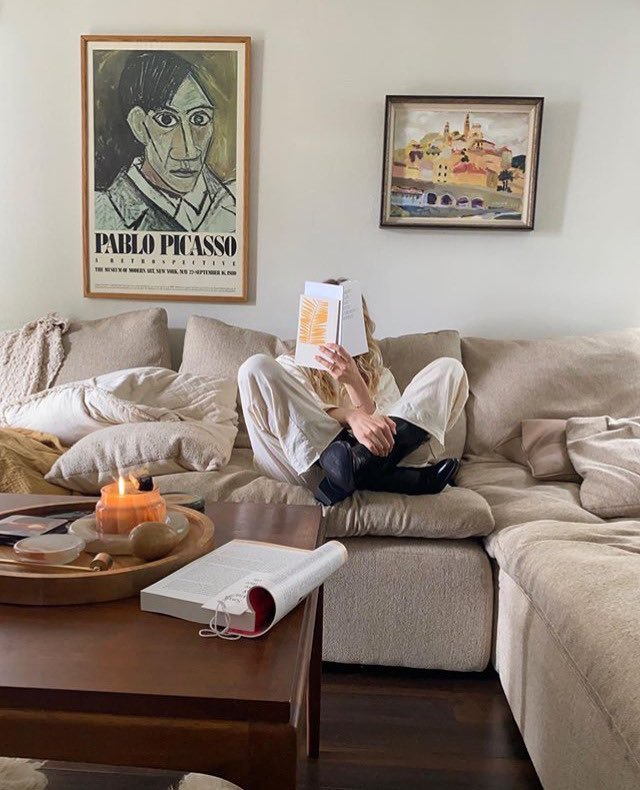 | image courtesy of twitter |
I recently moved to New York City, which has been a big dream of mine for as long as I can remember. It started as an obsession with Broadway and the theatre scene (back in my drama kid days), but has evolved into a love for pretty much everything about New York. As my girl Taylor Swift says, "it's been waiting for me."
| image courtesy of etsy |
This apartment in Brooklyn feels like my first "adult apartment." I've lived on my own for many many years before, but every apartment previously had a lot of roommates, and a lot of other people's decor. This is the first place I've moved into that was completely empty, so I've gotten to build it from the ground up. I feel a lot of ownership over it, and it's my first apartment that truly feels like mine.
| image courtesy of skona hem |
Furnishing an apartment and moving across the country is stressful and expensive, and it's easy to get caught up in things that are trendy that you don't really need (or love). I had to strike the right balance of following my budget and investing in things I'll want to take with me wherever I go. I finally feel like I'm at the age where I've found my style and want my place to feel like home, rather than a temporary stop along the way.
| image courtesy of dekkobird design |
If any of you are also going through huge life changes, or just moving into their first "big girl" apartment like me, I've compiled this guide for you. Use it as a way to help you navigate the worthy investments versus the impulse purchases. And once you're settled, have your friends over for a dinner party. It'll make it truly feel like home.
| image courtesy of tumblr |
 Bedroom
| image courtesy of crisp sheets |
Don't overthink it. Just do it. I promise you, it's worth it.
This, combined with my feather bed mattress topper, feels like sleeping on a cloud. Even with the cabs honking and subway rattling right outside my window, I sleep like a baby.
| image courtesy of west elm |
Juniper Green & Brass 7-Drawer Dresser
 I agonized over this purchase for weeks before I pulled the trigger, but I am so glad I did. It is definitely an investment, but it's so beautiful and ties my whole room together. I'll have it for years to come.
 Home Office
| image courtesy of pinterest |
I rent my apartment, so unfortunately, I'm not allowed to do pasted wallpaper or paint the walls. I fell in love with this wallpaper from Rifle Paper Co, and lucky for me, it's peel and stick. I bought a couple rolls of this wallpaper and put it up in my home office. Worth every single penny. It makes me smile every time I look at it.
I own a lot of books, but I wanted a way to display them that didn't look cluttered. Also, I put a lot of thought into my Zoom background, and these bookshelves were both pretty and practical for my work from home life.
This desk is the perfect sleek yet sturdy centerpiece of my home office. It has room for all my stuff but also is neutral enough to show off my wallpaper.
Living Room
| image courtesy of lulu and georgia |
Mirrors make your smaller rooms look bigger. I'm in a small New York apartment, so I wanted to add mirrors as a way to widen my space. The EG shop gals convinced me to invest in this beautiful sunburst mirror, and it may be my favorite piece in my apartment.
 This one feels like a no-brainer, but a gallery wall of vintage art is just beautiful. My rule of thumb is picking pieces that remind me of people or places that are special to me. For example, I'm slowly building a collection of vintage paintings of French landmarks to remind me of living in Lyon.
Kitchen
Nespresso Vertuo & Milk Frother
My mother and I believe that getting coffee makes everything feel like an event. But, as a single girl living in New York, I'm on a budget. I invested in this Nespresso & milk frother, and have learned to make really good cappuccinos at home. Especially while I'm working from home, it's nice to make good quality coffee in the comfort of my home. 
The kitchen appliance I never knew I needed. One of my friends talked me into getting one of these, and it changed my life. Sparkling water all day, every single day, and it's ready in three seconds. Genius.
 I love hosting and having friends over, and my vintage glassware collection is an essential component of wine nights at my place.  
Bathroom
| image courtesy of semi stories |
These are perfect for storage and decoration. My mom has a rule: the less of your stuff that is visible, the more organized you seem. Moroccan baskets are the perfect thing for that.
Vintage Louis Philippe Mirror
My old buddy Louis. Classic & a big upgrade from the mirror that came with my apartment bathroom.
-
 And once you're done decorating, come over to mine for a drink to celebrate! 
Take a peek at more decor posts >