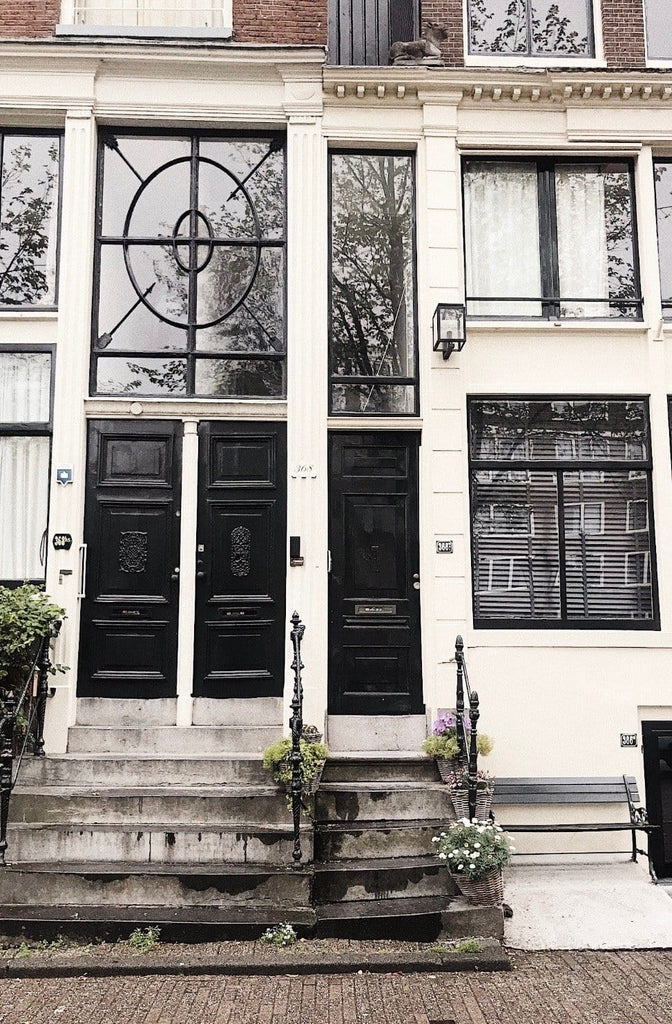 With our team heading to Europe this month, travel is on our mind. But then again, when is travel not on our minds?  We thought it was about time to do another city guide.  Here's a round up of our favorites from Amsterdam.
| all images from members of the Elsie Team during our travels |
scene from the Hotel Arena bar
x
Where to Stay
Hotel Arena is a former girls' school that's been renovated into a chic and comfortable hotel that's built around a beautiful park.
Classic Amsterdarm.  Grand in structure featuring some quirky design details.
breakfast consisting of coffee, bread, and hummus at Hotel Arena
x
Where to Eat
It's a favorite of ours, if you can't tell.  Don't miss out on at least one breakfast at Hotel Arena, and one evening aperitif around their free-standing fireplace.  Order the bitterballen. Yum.
Vintage black candlesticks, black trim and a Moroccan menu with tagine and couscous galore.  What more could one need.
The perfect spot to plan your day with a morning cup of tea and a travel guide.
Give it a try.  It's a dutch version of the old Automat concept.  Just make your food choice from the windows, pay, and lift the door to retrieve your treats.
the infamous free-standing fireplace at Hotel Arena
x
What to Do
Rent a Bike
Amsterdam is a very bike friendly city, so it's a great way to cover lots of ground quickly.
Museums and Monuments
Of course you want to see the Van Gogh Museum, Anne Frank House and Rijksmuseum.  Buy your tickets in advance, or you may miss out.
When you're ready to see something different, visit MOCO for some really great examples of European street and modern art.
We know it seems like a cliché, but we really enjoy a canal cruise in Amsterdam.  Our favorite is the dinner cruise at about 5pm so we can soak up the view and enjoy the sunset all in one go.
*Leave plenty of time to roam about the little neighborhoods and canals.  The best way to discover Amsterdam is to wander and keep your eyes open.  Ask your server at the coffee shop where they like to go for lunch, dinner, shopping, etc.  That's where we get some of our best ideas.*
oh hello there

found this little gem while walking the streets of Amsterdam with no real direction
x
Where to Shop
Our favorite shops are those that are more about innovative visual merchandising and display than about buying.  Think Concept Stores.
A melange of fashion, gifts, home goods and children's items.
Far and away our favorite home goods shop.  It's a beautiful study in how choice of materials makes a design.
A petite fashion shop in a classic Amsterdam row house.  You have to be a mountain goat to get up and down the stairs to the top floor, but it's worth it for the curated collection in the attic and the view of the canals.
A neighborhood of buildings built in the 1600s that has been brought back to life with unique boutiques and shops.  Our favorites are King Louie, Who's That Girl, Pure Brands and The Darling.  It's a great capsule of Dutch design and fashion.
A well preserved part of the city filled with pretty antique stores.  While you're there, pop into Episode, Amsterdam's largest second hand store, filled with dutch fashion looking for new homes.
pretty little corners at Maison Rika
 
simple and chic display at Maison Rika
rainy days in Amsterdam
x
On that note, who's ready to take a trip?
Xx,
The Elsie Team